Barcelona represents the best of Spain.This is no accident - the city manages to check every conceivable box on a traveler's wish list.
You like food? Street food? Foodie food? International cuisine? Fusion?
How about easily accessible beach towns (Sitges)?
Shopping your thing? How about a mall on the ocean?
Fashion?
Art?
Parks?
Sidewalk cafe culture?
People watching?
Architecture?
Culture that welcomes you?
History?
Religion?
The history of religion?
Pastries or frozen delights your thing?
Prefer a walkable city?
How about a functional subway system?
The guidebooks are full of destinations and mandatory excursions for Barcelona. Here's how we experienced some of them with 2 kids ages 10 and 12 during peak tourist season (ugh!) in July.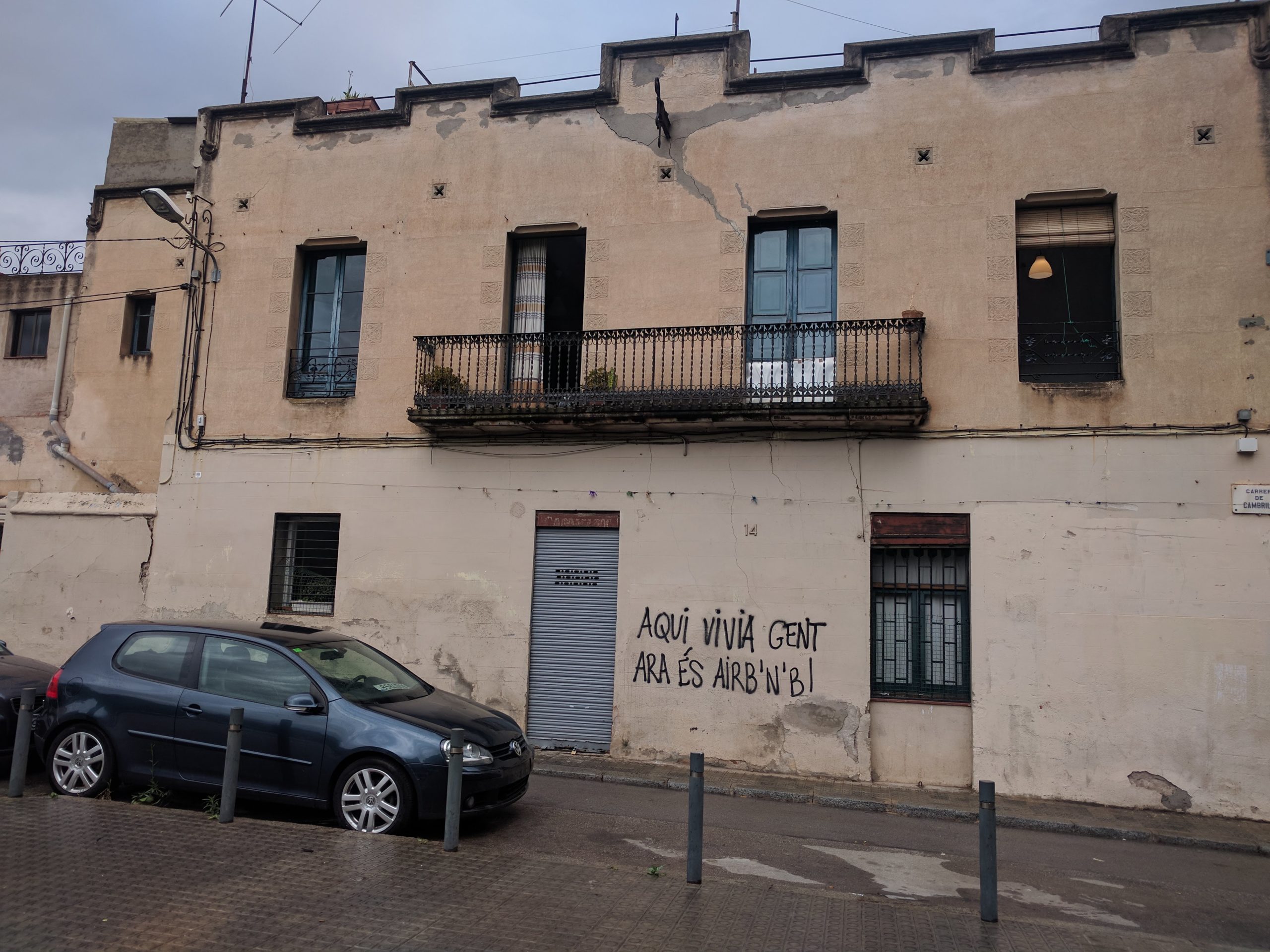 Housing
Barcelona is a victim of its own success. In becoming a desirable place to be young and alive for people in the arts, it's now grown difficult for those artists to afford to live there. International tourism has created a large Airbnb market that is displacing the locals. This foreknowledge made me complicit as I rented Airbnb quarters for our family trip.
We chose to rent a few blocks from the recently renovated Mercat Sant Antoni in Barcelona. It was near a metro stop, bordering the reputedly grittier Raval district, and walkable to many interesting neighborhoods.
Within a couple of blocks we had Chinese food, a Thai restaurant and Tapas Bars available as well as cafes slinging espresso to the younger, more collegiate laptop crowd. The vibe was heart of the neighborhood.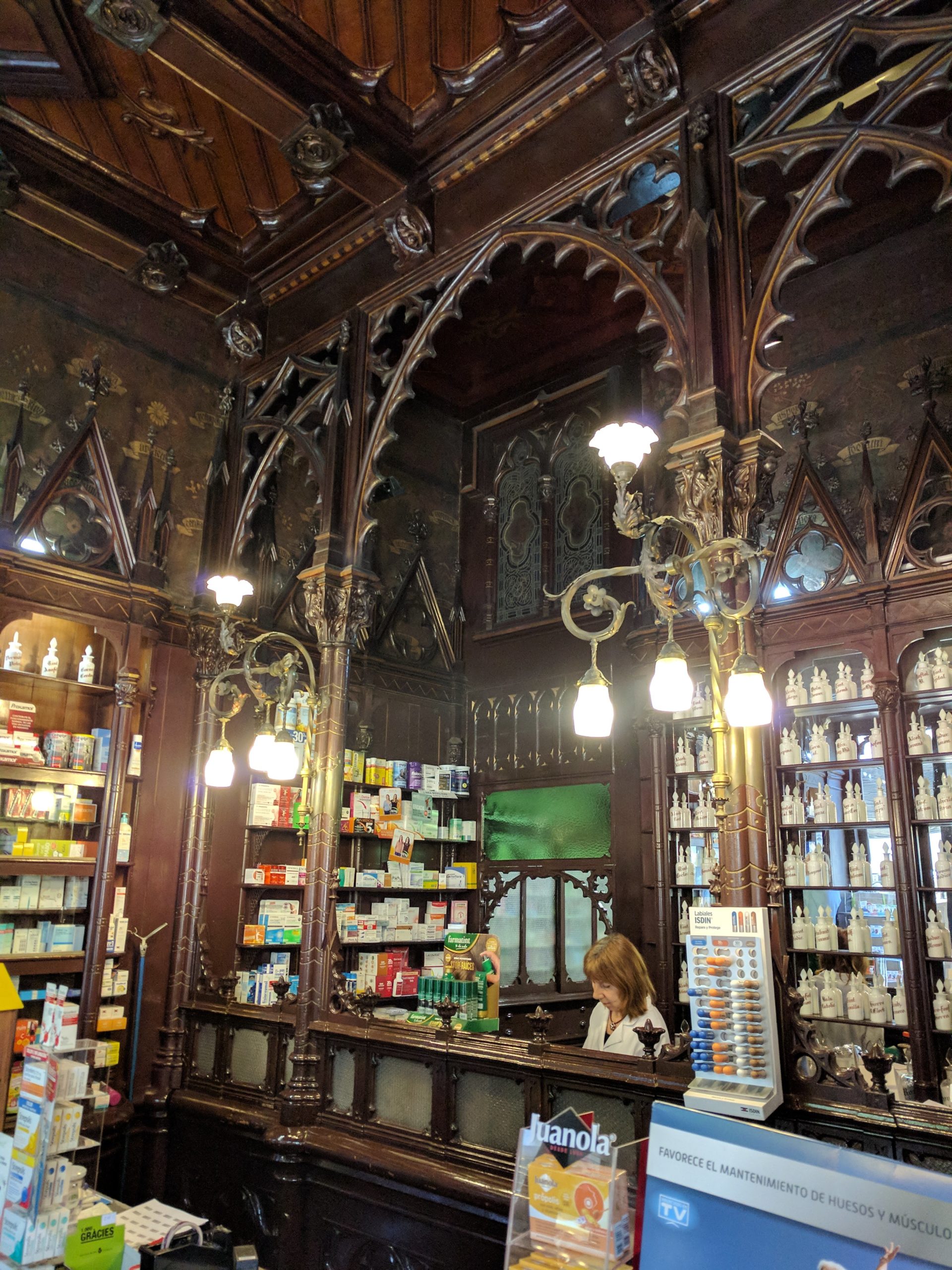 At the corner of our street stood a hundred year old pharmacy looking like it had stepped out of time in pristine condition.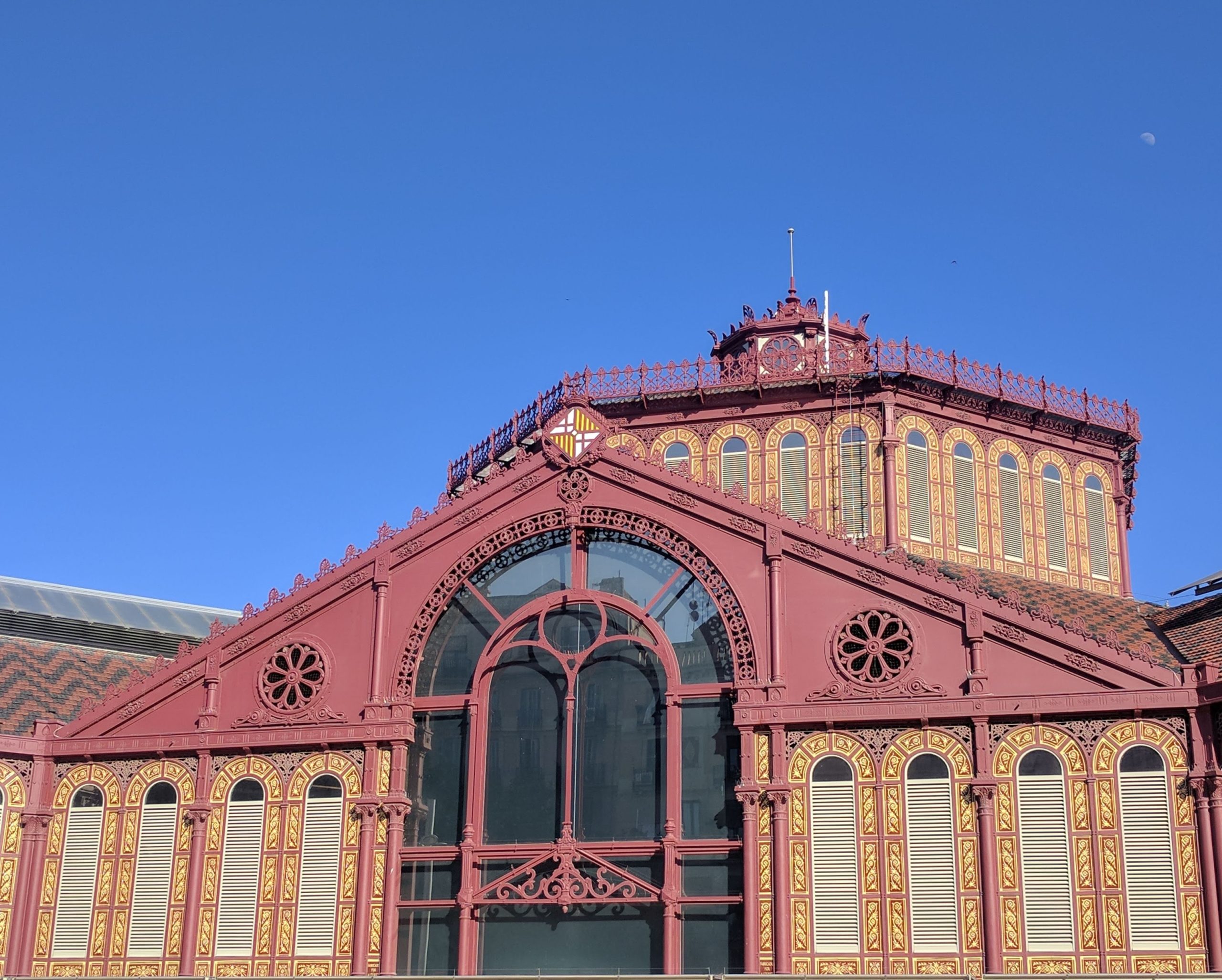 Neighborhood Market
Although staying near an easily accessible market is part of our strategy for keeping food costs low, I could not have predicted how central the Mercat Sant Antoni would become to our daily routine. The structure is visually stunning, surrounded by pedestrian cafes. The interior held not only numerous food stalls there but also traditional fruit and vegetable markets, butchers, fishmongers and purveyors of specialty socks and lingerie. [Spain is full of small stores selling exclusively socks - I did not know that was a thing.]
The purpose of serving as a municipal market as well as a social hub has been preserved. It was less gentrified than the hipster vibe of the Mercado de San Anton in the Chueca district of Madrid, and by retaining the patronage of the locals it felt real.
Best of all, there was a Lidl market occupying the basement level. Lidl is a discount grocery that was put on my radar by Justin over at Root Of Good.
Prices are incredibly low, baked goods are fresh and delicious, and we started every morning with a pit stop to pick up that day's lunch options. Lunch for four consisting of several baguettes, hummus, guacamole or avocados, ripe plums, peaches and bananas usually cost us under $6.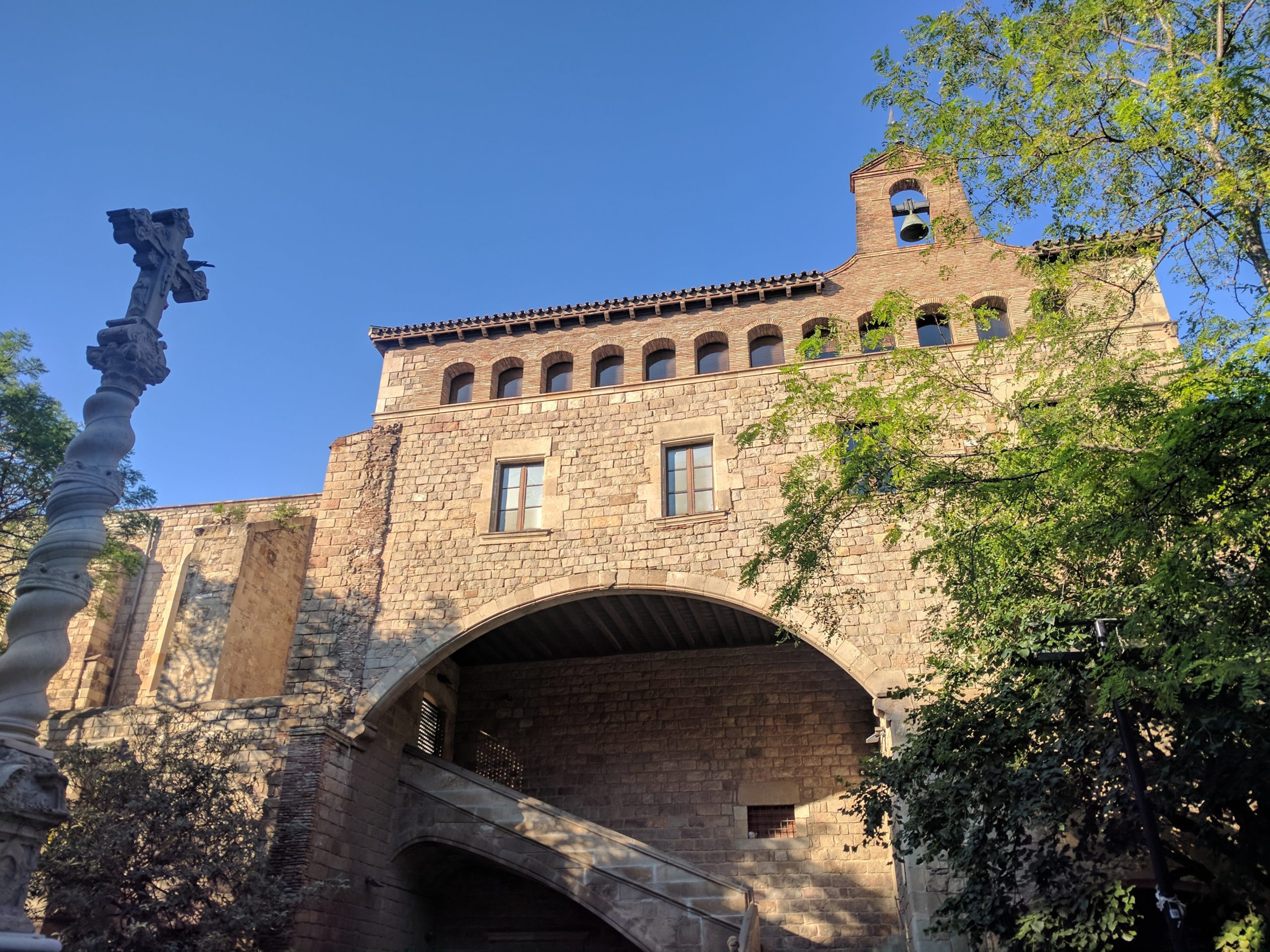 My favorite discovery while wandering? The courtyard of the Old Hospital de la Santa Creu, in the same converted complex as the Biblioteca de Catalunya (a large public library). Resting vagabonds, an orange grove and the beautifully vaulted ceiling of the public library were perfect spots for stopping to snack on a hot summer day.
Plaza de Catalunya
This tends to be where two popular walking tours originate: the pedestrian walk to the ocean along Las Ramblas and the architectural splendor of the Passeig de Gracia in L'Eixample. Think hordes of tourists following flag-bearing guides of every possible nationality. Tour buses pick up and drop off here. It had a Times Square in NYC sense of excess. It was certainly too much for us.
We attempted the self-guided Rick Steves guidebook tour of Las Ramblas, but the crowds and congestion made it so unpleasant we stopped halfway. It was not until we abandoned the Ramblas and wandered a couple of blocks off to either side that we began to relax and enjoy ourselves, discovering small plazas and quaint covered alleyways that let us escape the stadium crowds.
Forget what the books tell you - the only redeeming aspect of the Plaza is the commanding view from the top floor cafeteria at the El Corte Ingles department store, which we hit up to avoid a rain storm and an impending hunger meltdown. You grab a tray and either self-serve or wait in line for food which is made fresh to order. The open dining room reminded me of Top of the Hub in Boston - a five star view for a 2 or 3 star price.
At the ocean end of Las Ramblas, a block or so from the monument to Christopher Columbus, serendipity brought us to the imperial facade and stunning interior of the Central Post Office.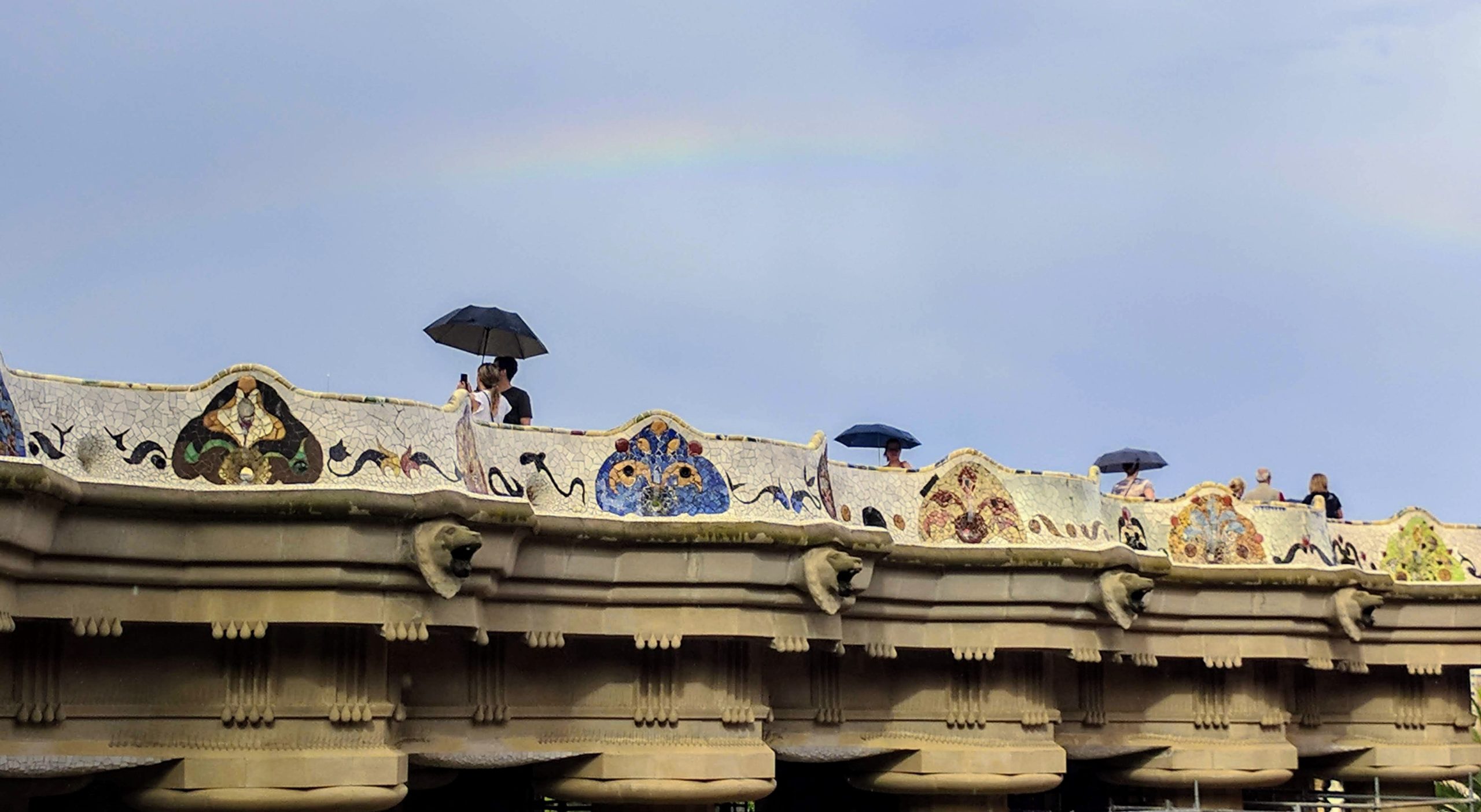 Parc Guell
Visiting this Gaudi creation was every bit as magical 20 years after I first walked the grounds. An outdoor gallery made of stones shaped like a perfect barreling wave, tiled cottages with whimsical cupcake decor, and designs that will win over even the skeptics are preserved with reverence. Requires some advance planning, so buy your timed-entry tickets online, preferably months in advance.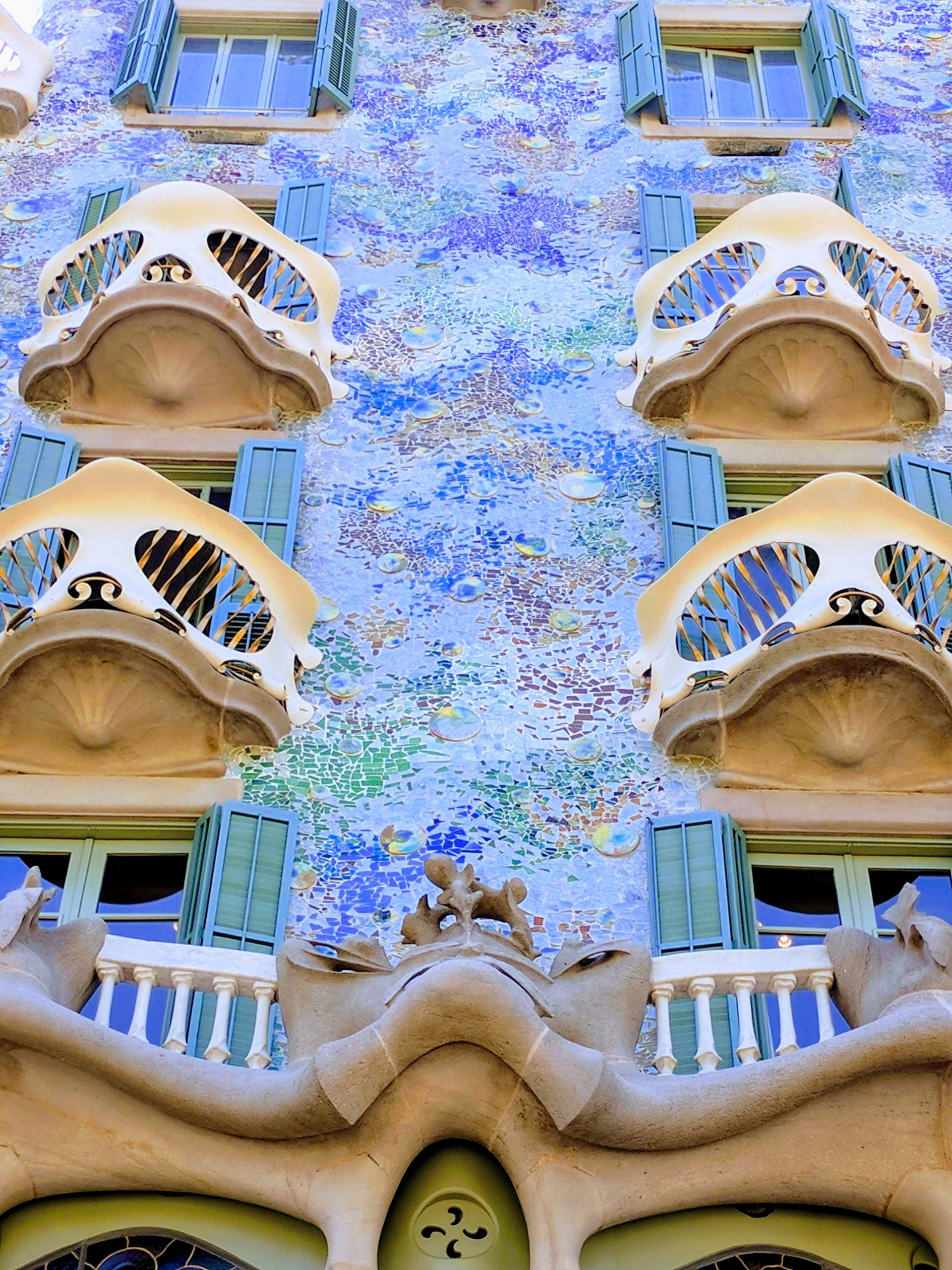 Passeig de Gracia
We spent a long and leisurely day walking the street and surrounding neighborhood, an architectural wonderland that is a magnet for wealth and fashion. We stopped to admire the facades of the Gaudi buildings, but did not opt for tours of the interior because they were expensive and we did not want to spend all our kids' goodwill for the day on a single tour.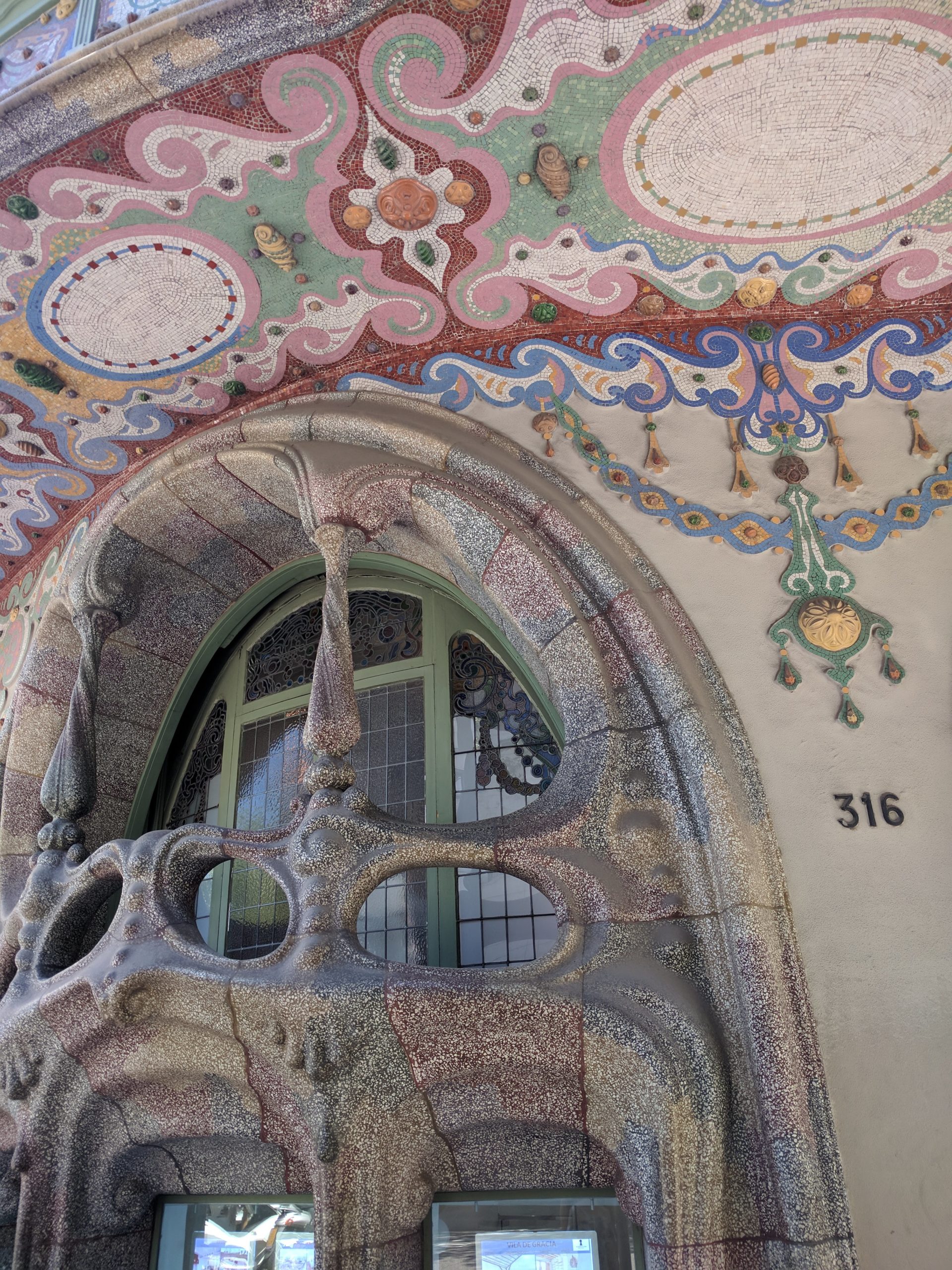 Instead, I used guidebooks and an online research to save architecturally worthwhile places as favorites on my downloaded offline google map of Barcelona. We then proceeded to while away the afternoon going from building to building, stopping for frozen treats when the heat tired us out. This was a terrific day.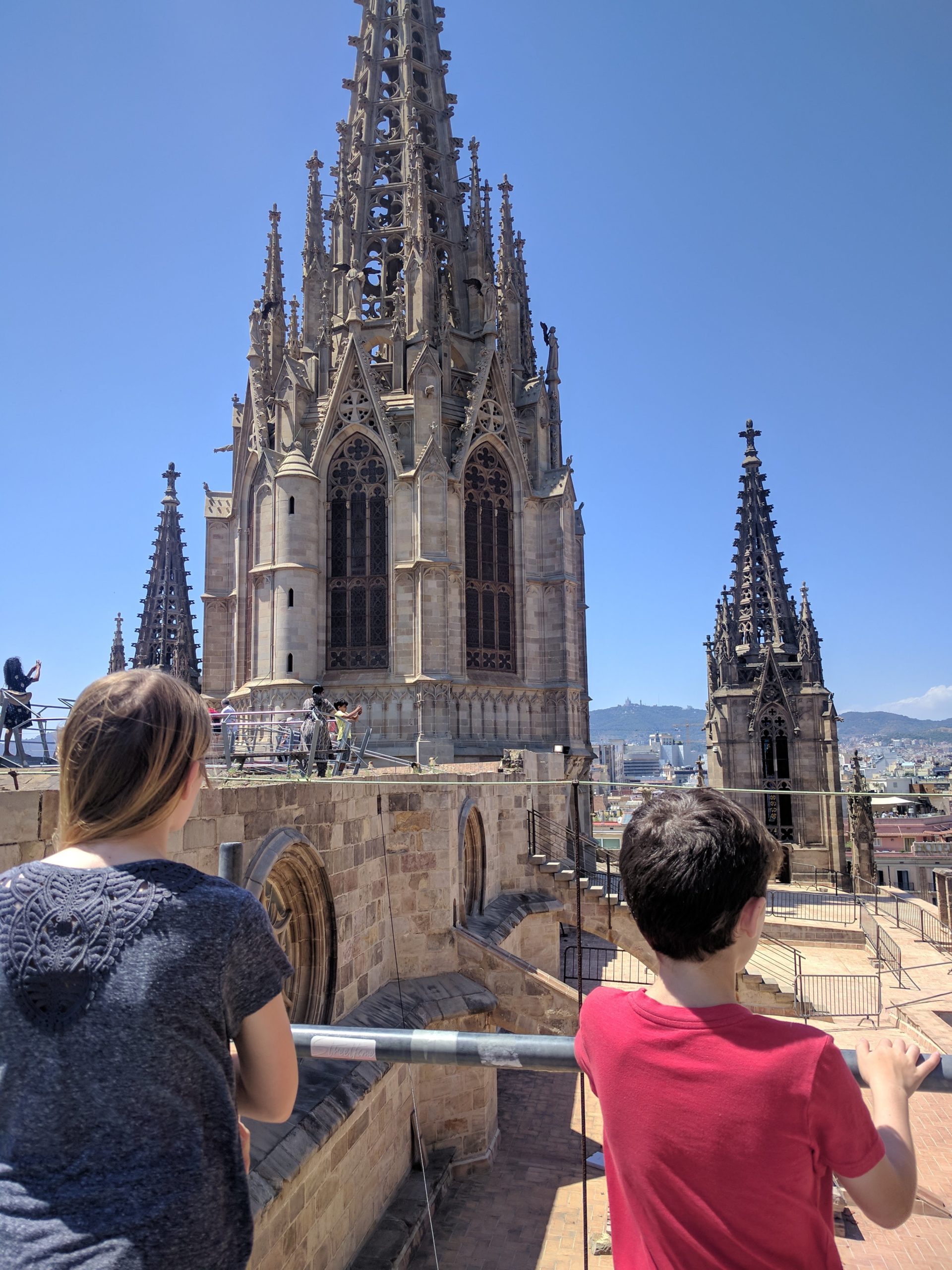 Barrio Gotic
We loved this area and found ourselves returning often to enjoy it at different times of day. We also relished entering buildings and exploring alleys without a specific destination in mind. It felt like getting lost in an M.C. Escher painting.
The cathedral was as beautiful from within as it appeared from without - well worth the price of admission and the visit to the roof to see the spires up close. Wandering the neighborhood around the cathedral was like opening Russian matryoshka dolls, one small delight following another in seemingly endless succession.
We enjoyed a peaceful courtyard with water features in the Barcelona City Archives, immediately adjacent to the cathedral.
We got a taste for grand Roman columns (with free admission!) to the Temple of Augustus, a quick but interesting stop.
We treasured yet another soothing courtyard and the coolest sculpted metal doors of the trip, ducked out of the heat and enjoyed some free AC in the palace housing the Royal Archives.
We saw the ruins and learned the history of the newly excavated Greater Synagogue of Barcelona, a small structure dating to 1391.
I'm a sucker for folk art museums, so the Museu Federic Mares was a standout of history's most fascinating knicknacks and a huge hit with the kids. Victorian sculptures made entirely of seashells and human hair? Cool skeleton keys? Carved pipes? Tombs from Knights Templar? We saw 'em and tons more!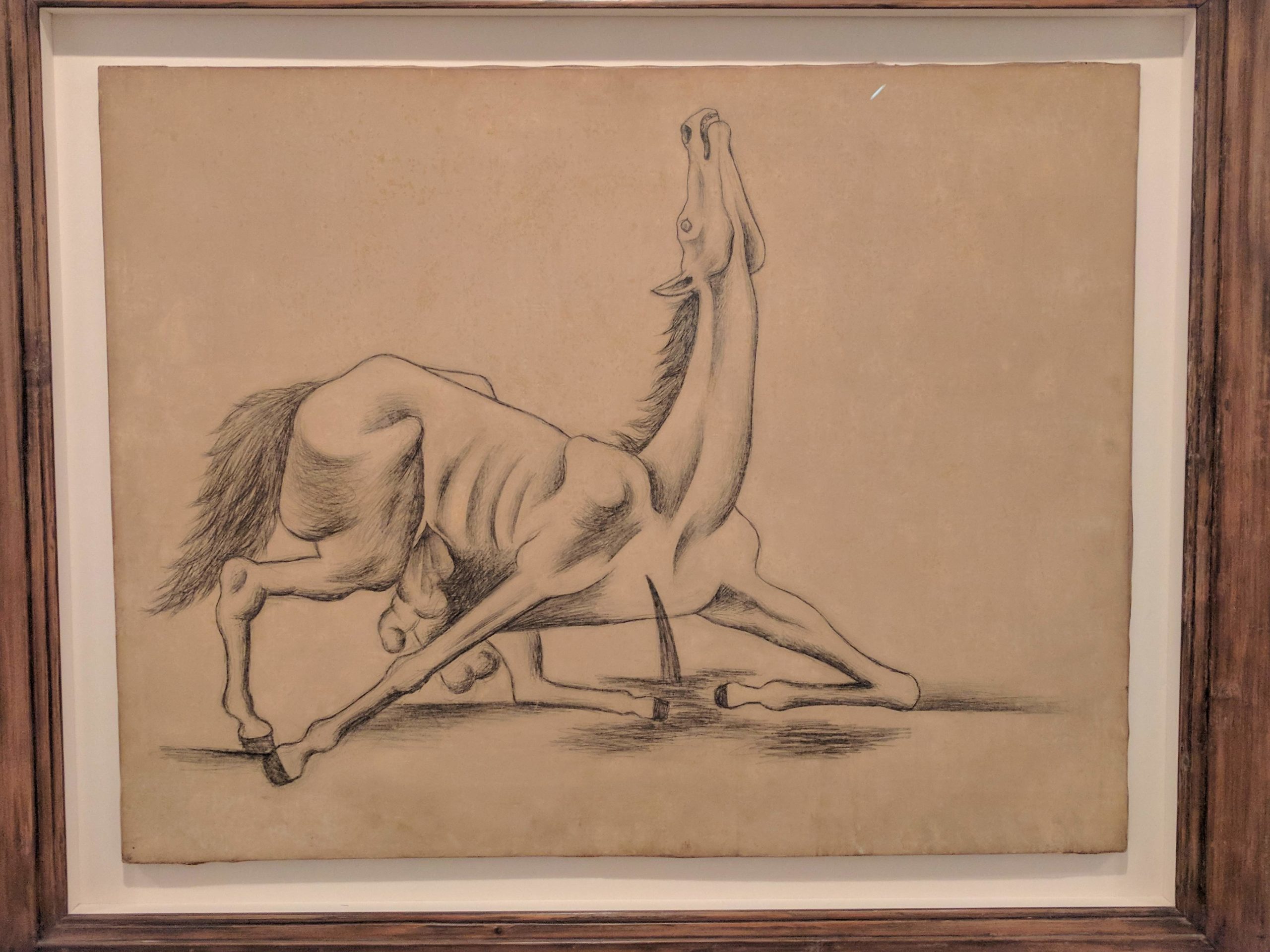 Picasso Museum and Environs
This was another occasion where reserving our timed-entry tickets months in advance made our lives much easier. The series of adjoining palaces that housed the building were as interesting as the art, which is saying a lot.
Our favorite display, after having seen the Velazquez painting Las Meninas in the Museo del Prado in Madrid, was a room of paintings Picasso made as cubist studies of that painting. I have no formal art training, but it was a cleverly curated way to get into another person's mind, and the kids enjoyed identifying the various studies with features of the original.
The walk around the Born neighborhood where the museum is located was almost as enjoyable as our timein the Barrio Gotic. A corner of the beautifully renovated Mercat Santa Caterina showed excavations of Roman ruins found beneath the modern, colorfully undulating roof of the public marketplace.
A few blocks and we enjoyed a picnic and stroll around the Parc de la Ciutadella. We were so happy enjoying the park and spotting wild flocks of parakeets screeching amid the trees, we felt no need to visit the zoo in the same park. Moreover, this would have violated our one destination per day rule that has worked well for our family travel. We've discovered ambition undermines appreciation.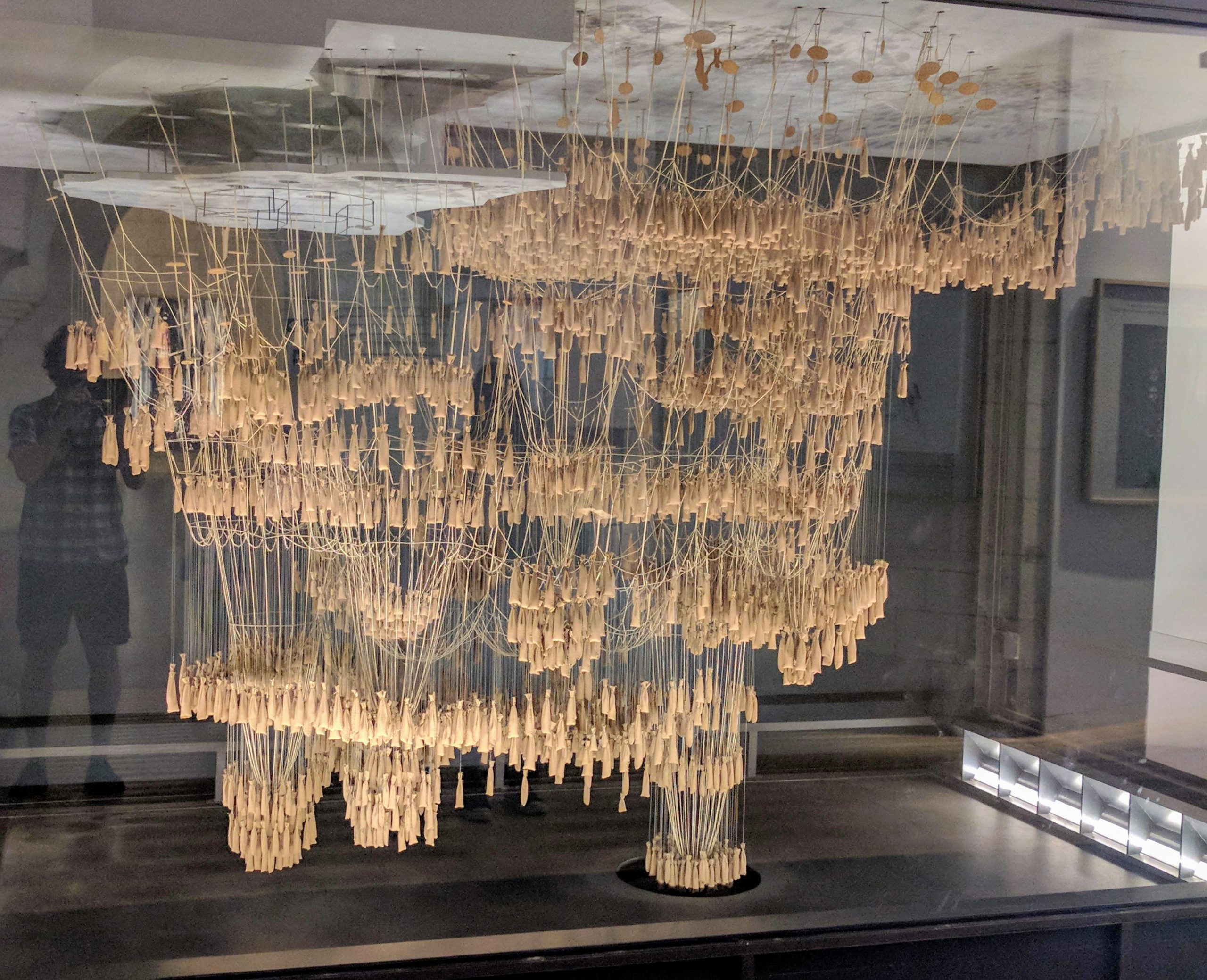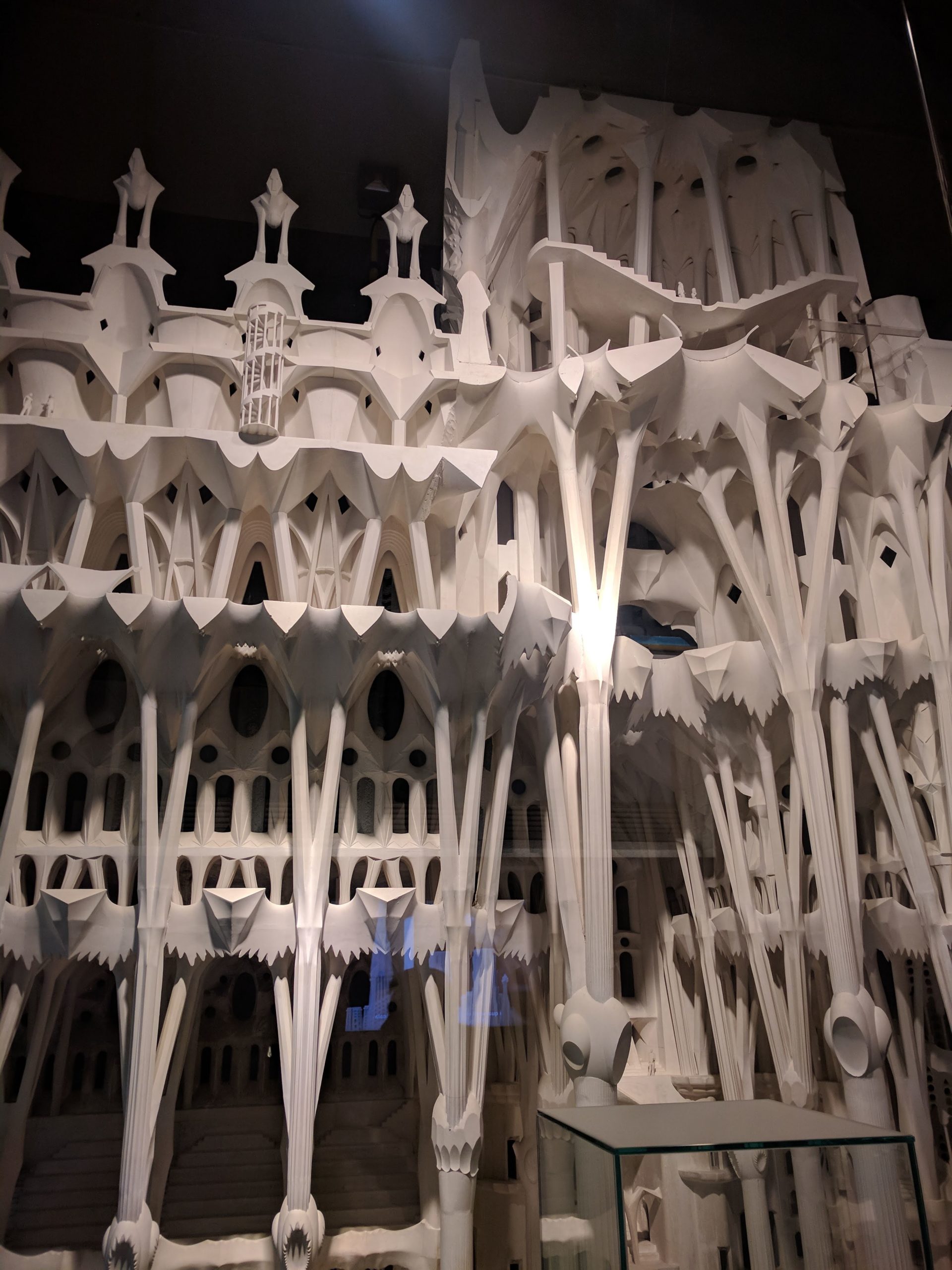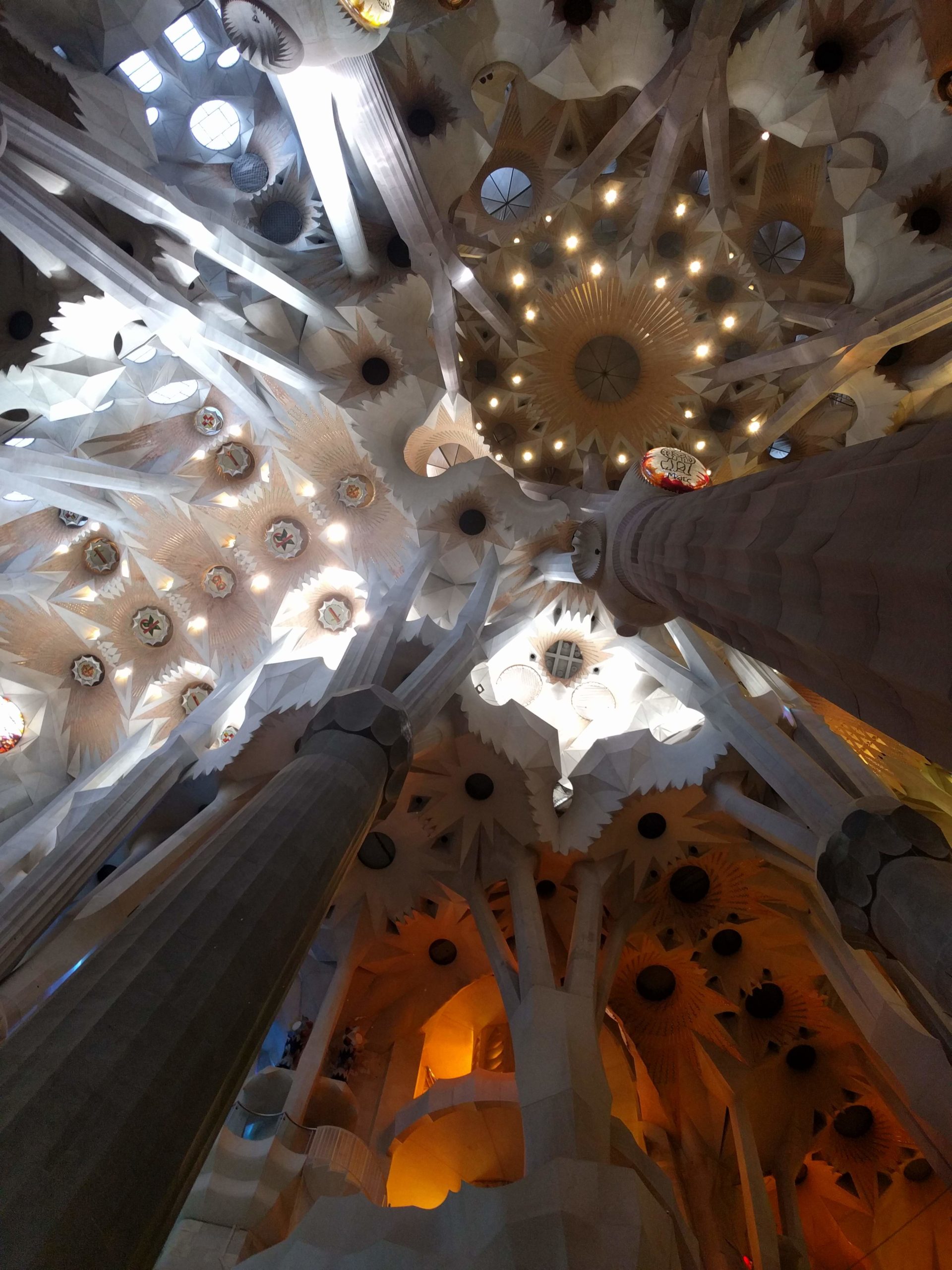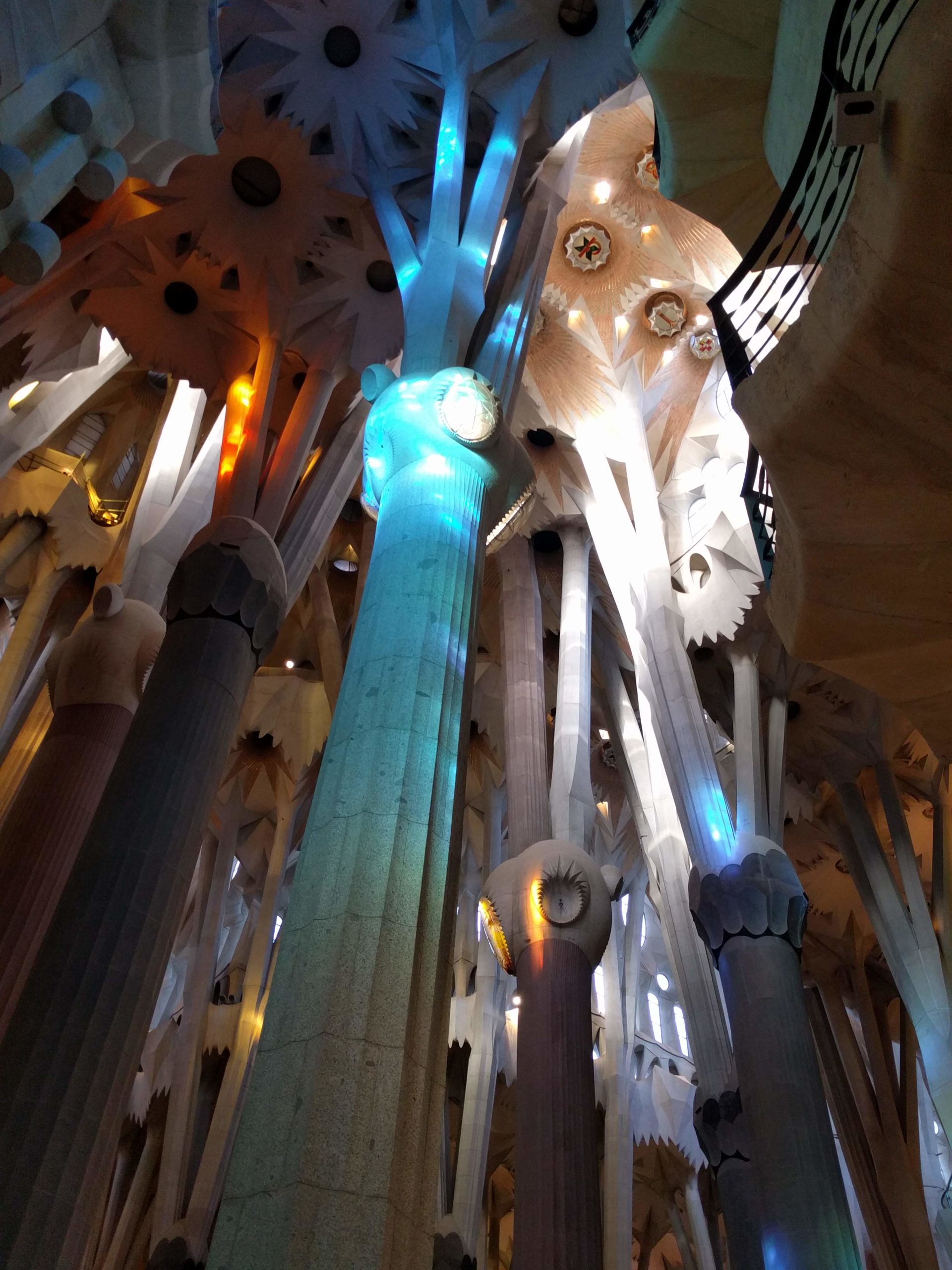 La Sagrada Familia
There are two buildings that ever made me consider humans could rival nature in the creation of beauty.
The first is the Taj Majal.
This is the second.
If you don't believe, this will make you wish you did.
Barcelona is very much on the beaten path, but the reasons become apparent quickly.
While many popular attractions are worthy of your attention, consider allocating equal time to wandering aimlessly.