San Sebastian (Basque name: Donostia) is an embarrassment of riches kind of town in Spain. Located on the Bay of Biscay down the shore from the border with France, a gentle scallop-shaped beach is protected from waves by an island that protects a quaint ocean inlet.
San Sebastian established its resort bona fides in the 1860s when Spanish royalty (taking a cue from their French neighbors up the coast in swanky Biarritz) built a palace and began a tradition of annual summer retreats here to escape the heat of Madrid.
Spanish society followed suit, and the result was a mash-up of Parisian elegance built up adjacent to a beach resort, all a 5 minute walk from a well-fortified old town full of cobblestones and vertiginously narrow streets. Yachts scattered offshore light up like stars in the harbor at night, while a large statue of Jesus beckons from a hill where a series of picturesque historical fortresses once stood guard.
You can't spit without hitting a historically important site, neoclassical building or cannon. This likely explains it's recent naming as a European Capital of Culture in 2016.
We found an airbnb with air conditioning that was across the street from a major supermarket, ten minutes from the old town and two blocks from La Concha beach. It was the priciest place we stayed during our travels in Spain, but worth the added convenience in making our awake time as high yield as possible.
Each morning began with a quick stroll while the family was sleeping to enjoy an espresso from a local cafe, retrieve a supply of fresh-baked baguettes and fruit from the market, and the breakfast together.
After that we took off for the beach. The weather averaged in the high 70s to low 80s, mostly sunshine with occasional clouds. The ocean water was cooler than expected, so I was glad I'd brought a neoprene wetsuit top I'd scored for 8 bucks from a thrift store before we left. This allowed me to swim laps in the bay for 45 minutes to an hour every other day.
After a morning at the beach, we either had a picnic on the sand or rinsed off in the apartment before heading out to explore.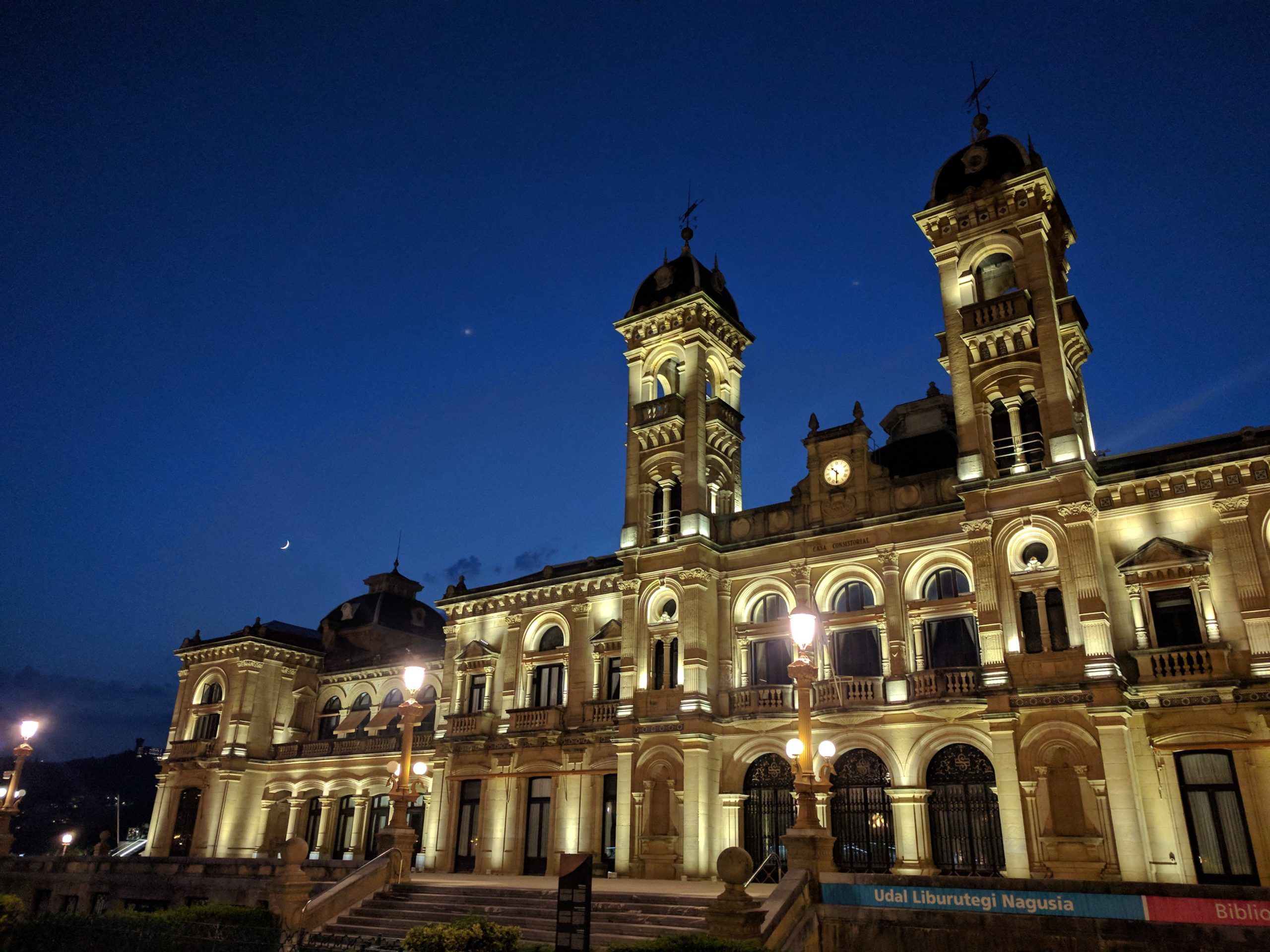 Highlights included:
Strolls through the old town every evening as tapas bar patrons, wine glasses in hand, oozed out of every door and into the de facto party of the streets.
Finding a quaint cafe with the best home-made veggie burger we'd ever tasted that turned out to be run by the local branch of a US cult. This prompted a discussion with our kids about what level of moral opprobrium should preclude patronage of excellent food. We went back for seconds.
A climb up the hill overlooking town, which offered crenellations, caves, cannons, Catholic symbols and commanding views  in great abundance.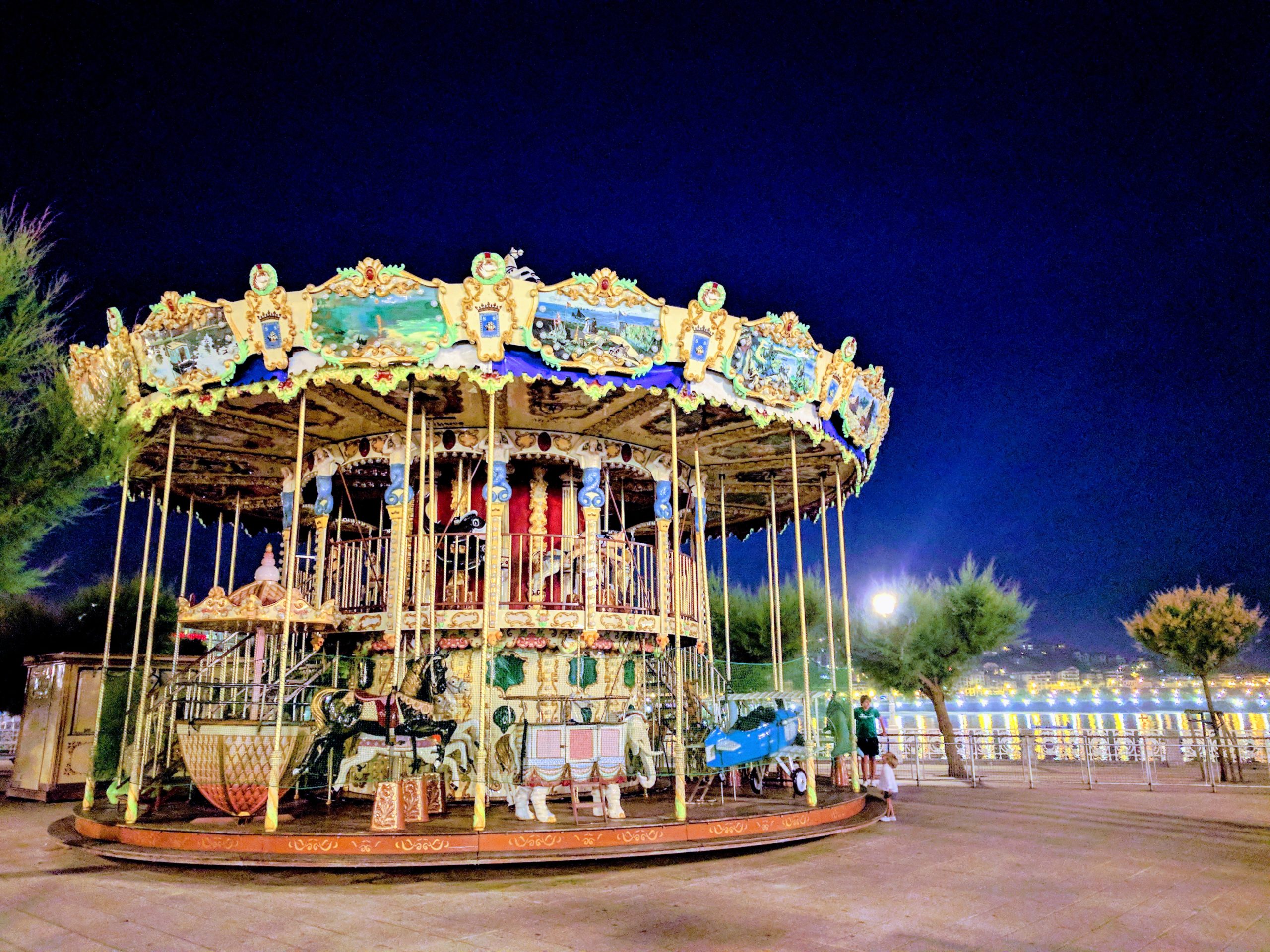 A ride on an ornate seaside carousel dating from the belle epoque.
Daily tastes of regional baked specialties from local bakeries, which seemed to thrive on every corner.
At the request of my wife and kids, I've begun to build in a few days of designated low-impact beach time into every big trip. While it's not the way I prefer to travel, the delight in experiencing new places has led to pleasant surprises.
Built in down time with no set itinerary tends to increase our patience with one another while reducing irritability. San Sebastian was a great choice to accomplish those goals.