Guelaguetza
By sheer dumb luck, our trip coincided with the annual Guelaguetza celebration. It began in pre-colonial times as an event where representatives from far-flung villages came together in shared worship of corn and the deities that brought the harvest, and included exchanges of food and textiles as a form of reciprocity between villages.
The event brings rural indigenous cultural practices (music, dance, dress) from extremely remote villages together, which eventually attracted the attention of both foreign and Mexican tourists eager to witness something authentic that had resisted the onslaught of global pop culture.
As it became a source of tourist revenue in a relatively poor state, the authorities built a stadium to house it and began to charge tiered admission fees, ostensibly to support cultural preservation and attempt crowd control.
While time has changed the event, the strong indigenous roots and the flavor remain. Half of all Oaxacans are of indigenous origin, primarily from Mixtec and Zapotec cultures, and 300,000 Oaxaca residents are monolingual non-Spanish speakers.
Guelaguetza remains an event centered on fierce local pride and spectacle. Indigenous groups (who are lower-income relative to the population of Mexico) present their local culture via delegations of dancers dressed in elaborate outfits highly specific to each mountain village, often accompanied by indigenous bands. Textiles and food from each village are both gifted to the audience (I ducked a flying pineapple more than once during the festivities) and sold in a pop-up market that surrounds the arena.
Many dances included religious iconography, home-made fireworks ignited with a safety-last philosophy, and costumes that take years to sew and impart tremendous prestige and social standing on the persons wearing them (who are as likely as not to be the persons who sewed them).
Standout performances included a re-enactment of the arrival of colonialism, complete with masked knights in armor; witty, innuendo-filled exchanges between men and women professing romance; and a dance where two live turkeys were spun at a dizzying pace while intermittently guzzling mezcal.
Pyramids
The pyramids of Monte Alban offer an ideal day trip from Oaxaca City. Mindful that the kids might not last the full day nor take kindly to a package tour, we hired a cab for half a day (the fee was negotiated by our airbnb hosts on our behalf, and was very reasonable) and set out for the ancient Zapotec capital that was the New York City of mesoamerica for a thousand years.
Climbing ancient stone steps, ducking into small courtyards, taking in the commanding views of the valley below and finding haunting new stone carvings at every turn had my son and I humming the theme to Raiders of the Lost Ark for most of the day.
People
While I might have led instead of ended with our experience with the people, Oaxacans are no monolith. To the contrary, there's a large indigenous population (mostly of Mixtec and Zapotec origin) that I encountered in the markets near our airbnb. They were generous and welcoming, moreso to family travelers. In a family-oriented culture, children unlock doors that might otherwise remain closed - folks in the market offered us samples and engaged my son and daughter at every opportunity.
Our interactions with locals tended to be (unsurprisingly) with those in the service industry - chatting with the lone waiter in the hot, humid afternoon when we were the only folks in a restaurant; hearing about the disparity and political neglect from the federal government from a taxi driver we hired for an afternoon to take us to Monte Alban or to the towns; hearing about the process of creating an alebrije from the artist who sold us one of his creations.
Since we'd already traveled to Greece two weeks earlier, we suffered a bit of travel fatigue and were less extroverted than usual. Many of our travel experiences tended to focus on our kids and their responses to what we'd encountered. This inward focus admittedly came at the expense of getting to know more people.
Logistics
The trip went surprisingly smoothly behind the scenes.
Our phone service on Google Fi functioned flawlessly. It simply worked from the time we stepped off the plane. I felt an almost delirious joy in knowing I'd saved time and avoided aggravation by not needing to call customer service, upgrade to an international plan for a couple of weeks of travel, and downgrade on my return.
Data rates were identical to what I pay in the U.S., with any unused data credited toward the following month's bill. Calls were $0.20 per minute if not over wifi. I switched a two person plan from Sprint to Google Fi and our bill went from $150/month to $45-50 / month. In fact, above-average data use and a few phone calls made in Oaxaca only went over our usual bill by $15.
If you are thinking about switching over to Google Fi, I'd be grateful if you'd consider using my referral code: 5UP4VD, which gets you and I $20 credit apiece.
Unlike Mexico City, Uber has no presence in Oaxaca City, but the cabs were plentiful and generally adequate (defined as having functional seatbelts). They were easy to find, and when we wanted to try side trips like a visit to villages specializing in alebrijes or hiring a driver to and from Monte Alban, we arranged it via our airbnb hosts.
Oaxaca City is an eminently walkable town, and we stayed at an airbnb near the city center, near most major attractions. We deliberately chose a place located in a residential rather than tourist area. The benefit was getting to know the rhythm of the area, seeing shop owners sweep their front porches every morning and parents walking uniformed kids to school.
I made it a daily custom to stroll to the nearby (non-tourist-oriented) market for fresh tropical fruit, yogurt from a local dairy and still-warm bolillos (Mexican dinner rolls) that sold for pennies and made a perfect breakfast. Extra rolls were ideal snacks to toss in a backpack and stave off the hangry during a day of sightseeing.
By the time we arrived in Oaxaca we were a bit tired from having returned 2 week earlier from our trip to Greece.The hedonic treadmill reared its head, and the delightful surprise of "We get to go to a restaurant for dinner again tonight!?" gave way to "There again?!"
We put an immediate stop to that response, but in retrospect, the turnaround time was not enough. My take home lesson for family travel with elementary school-aged kids is that one big trip works better.
We did well with our master plan to strive for one thing a day - a single museum, walking tour or destination neighborhood followed by unstructured wandering,plus exploring a nearby park was a recipe for happy kids.
Quiet time back at the airbnb during siesta (coinciding with peak heat) made me realize the superior self-care that Mexican culture supports.
Henceforth we'll plan to do one trip a summer.
In spite of mild travel fatigue, Oaxaca earned its reputation as an artistic, culinary and cultural treasure.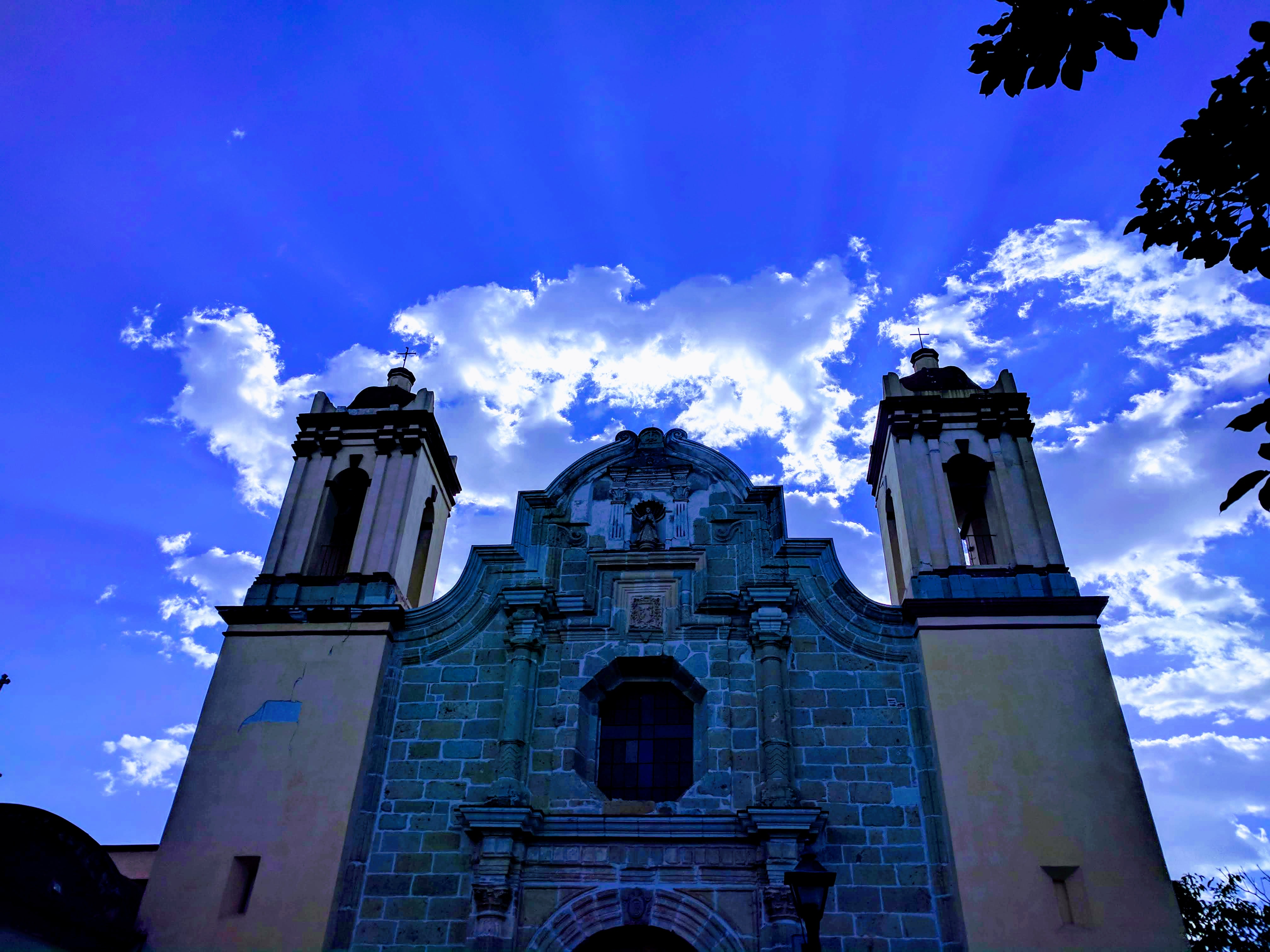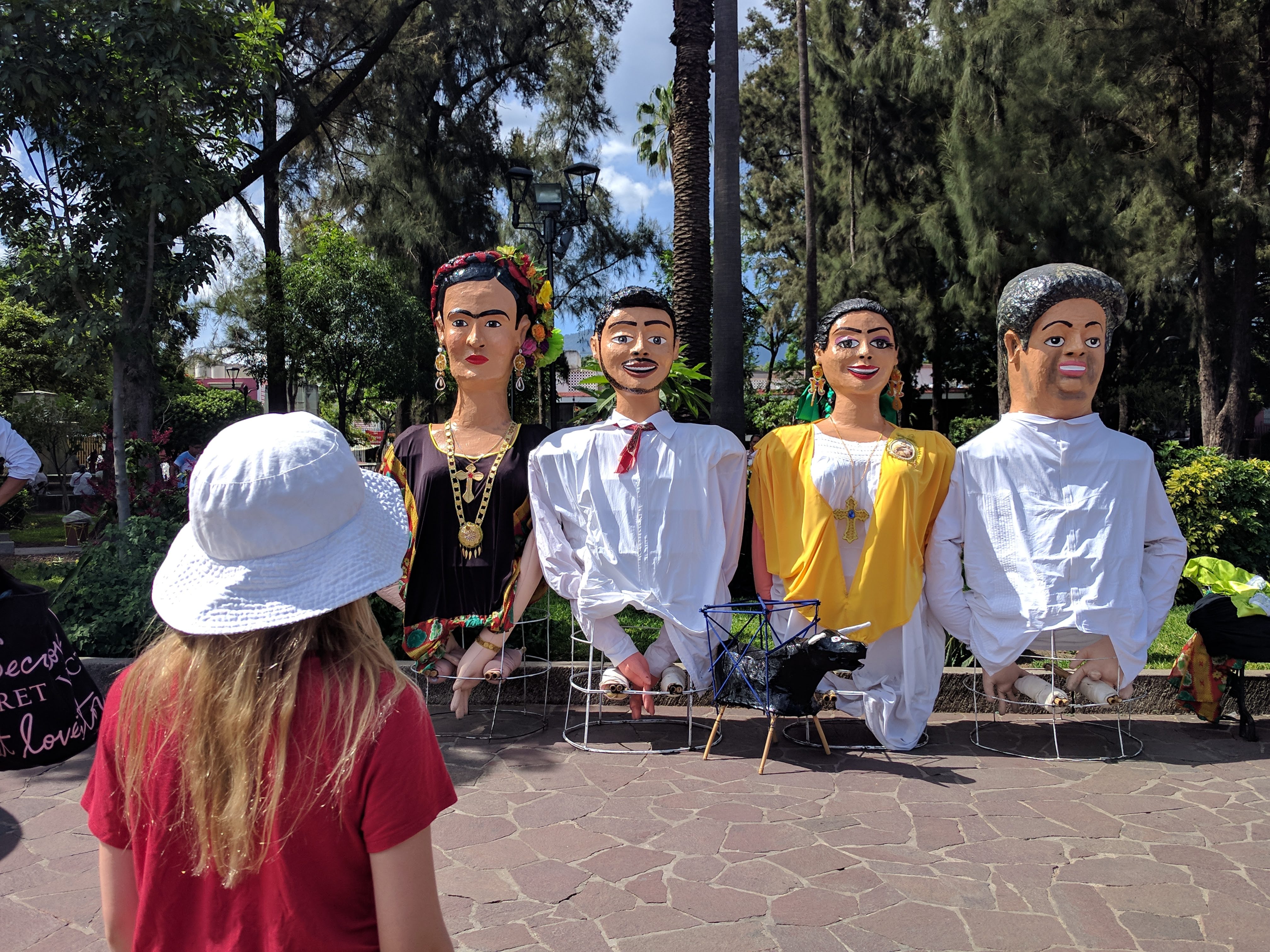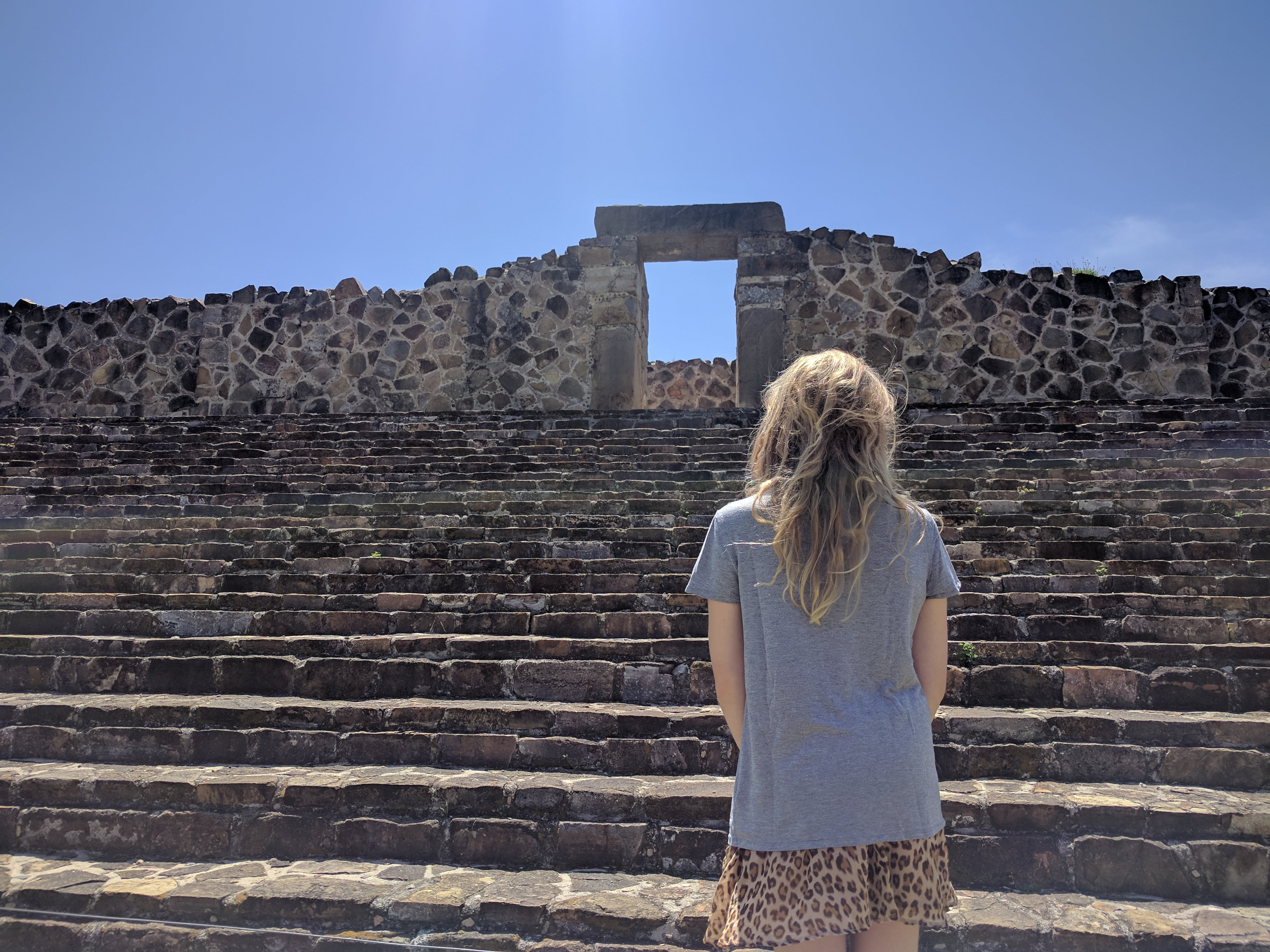 ---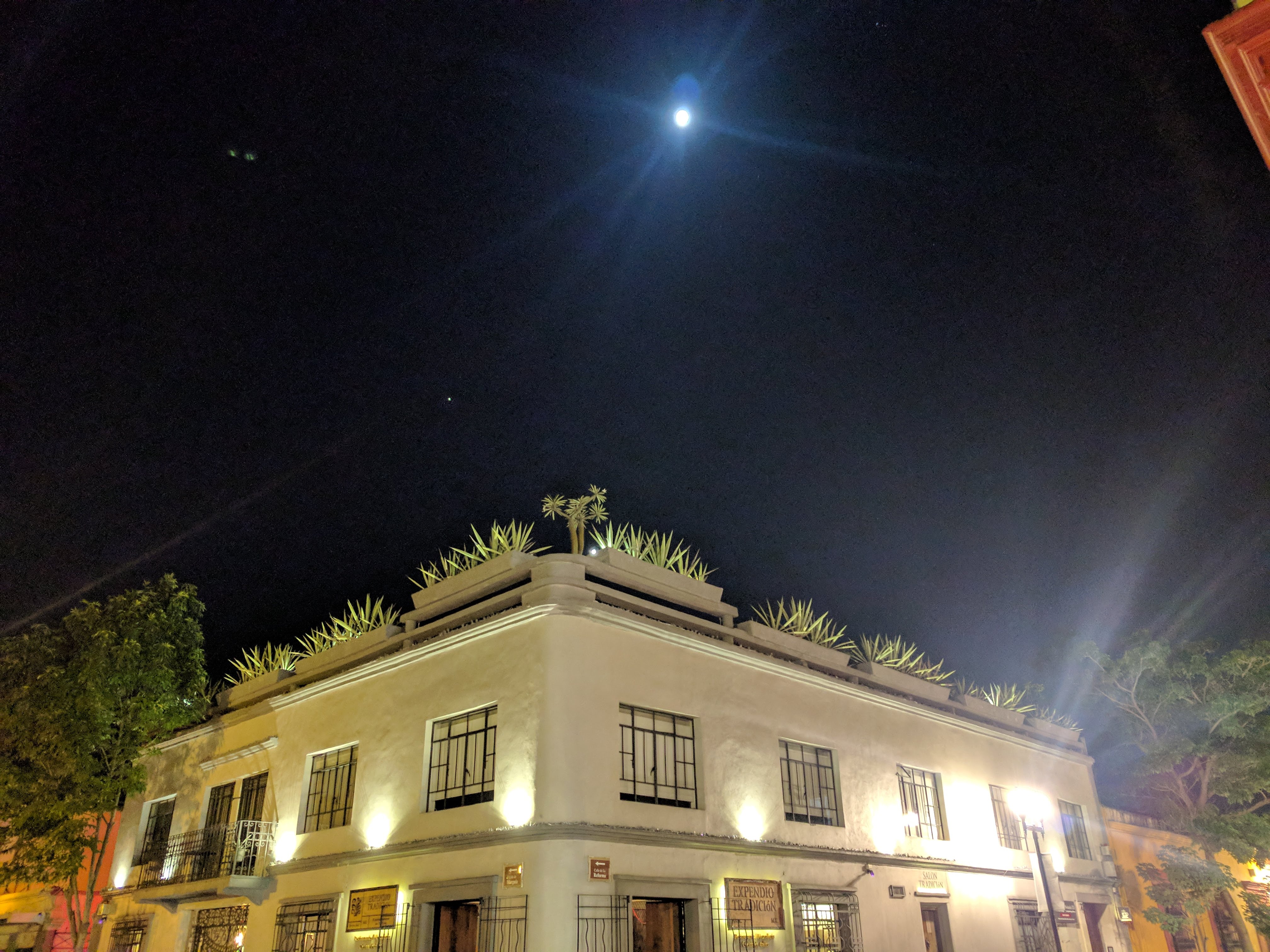 ---