23 years ago, I took my first international trip as a backpacker through Europe. It was my baguettes, bananas and drinkable yogurt tour, since these were the foods I could afford as I made my way through some pricey countries over a couple of months.
One of the highlights was Greece – I spent a couple of nights in Athens, then made my way south by bus to Nafplio, a charming coastal city that was the country's first capital.
I loved the old man who ran the youth hostel, and who served as a human alarm clock to empty the bunks each morning with the few fragments of "Que Sera, Sera," he knew how to play on the accordion.
I relished the multi-generational evening promenade through the old town square, where grandparents held toddlers, young couples strolled with an air of invincibility, and thirteen-year-old boys with carefully combed hair sat across from their female counterparts, who laughed confidently as they experimentally shared flirting glances with the boys.
I dreamt of someday returning to Nafplio, and to the Pelopponese mainland south of it. When I met my wife, she shared her dream of visiting Greece someday, and I knew I wanted to be the guy to introduce her to it.
Greece came into focus as we solidified our ambitious summer plans this spring – for the first time since our honeymoon, I arranged three consecutive weeks off with my group. Subtracting travel time, we decided to concentrate on three locations: Athens, Nafplio and the Ionian island of Kythira.
Why Kythira? That's the spot on the map where the dart landed.
To explain: As I assembled an experimental itinerary, I considered traveling south of Nafplio along the Mani peninsula, and at its southernmost tip lay this island that I thought might make a nice ferry trip.
In the end, the bus connections were few and notoriously unreliable, and the commuting hours were long to reach the isolated places I'd hoped to visit, but Kythira turned out to be a short direct flight from Athens.
I read about Kythira online, and it looked like the timing would be perfect. The summer high season tended to be primarily Greeks from the island returning from the Western diaspora (New York and Australia primarily) to spend a month tasting home, combined with a few adventurous honeymooners.
The flight was booked via Orbitz, and was a bit nerve-wracking – there was no way to arrange online check-in via the pimple-sized airline that made the flight. Their website said to bring your printed receipt and show up in time to check-in at the counter to pick up your tickets.
Trying to hide the sickening feeling that I'd made an irresponsible mistake and screwed up our vacation, I put on my game face as a taxi driver resembling Kenny G's long lost twin delivered us to Athens contemporary new airport. I could not have been more pleasantly surprised.
The counter for Sky Express had as many staff as it did passengers, and check-in was not only painless but pleasant. The staff were professional while keeping their sense of humor.
As part of the airline's attempt to build it's brand, we and the other 40 passengers were invited to a VIP lounge, where the family enjoyed a second breakfast as I sipped a cappuccino chased by an espresso (because free)!
We landed on the island an hour later at Aristotle Onassis airport, which for you youngsters is the name of the second husband of John F. Kennedy's widow (Onassis is the "O" in "Jackie O").
Turns out Kythira was a well-kept secret harbor for those with yachts and knowledge. You walk off the plane and onto the tarmac, where a few possibly related folks run the airport. They were courteous as could be.
Unfortunately, one of the 40 passengers on our flight (ours was the only plane landing that entire day) mistakenly took my wife's checked bag. The plane was sufficiently small that her generic black roll-aboard, which would easily pass for carry-on in the US, did not fit in the tiny overhead compartment.
While I picked up the car rental, my wife acted out her private Greek tragedy by describing her circumstances to the agent. Our kids, a Greek chorus, divided down the middle – my son echoed the tragedy, my daughter the comedy.
After a 40 minute lamentation where we still had no luggage, I coaxed my fury into the passenger's seat of a small but newish rental car, and we began the short drive to our airbnb rental villa.
On the drive, enjoying the breeze from open windows in 80 degree sunshine, my daughter commented on the multitude of insect life visible as we drove past fields of picturesque olive trees subdivided by crumbling stone walls.
Her statement was hubris tempting fate.
My wife immediately screamed as a wasp from nature's abundance strayed in through the window and down the back of my wife's shirt, where it stung her. As she reached back to swat it away, she was stung a second time on her fingertip.
Windows rolled up, with the air conditioning set on maximum, we cursed nature and her fiendish insect servants as we resumed our drive.
For under $60, we'd reserved a renovated 500-year-old Cycladic home in the tiny mountain village of Kastrionika.
We arrived to find stunning blue shutters set in whitewashed walls, hewn stone archways, and a courtyard of multiple impossibly arranged outdoor decks connected by stairs that I assume served to inspire M.C. Escher.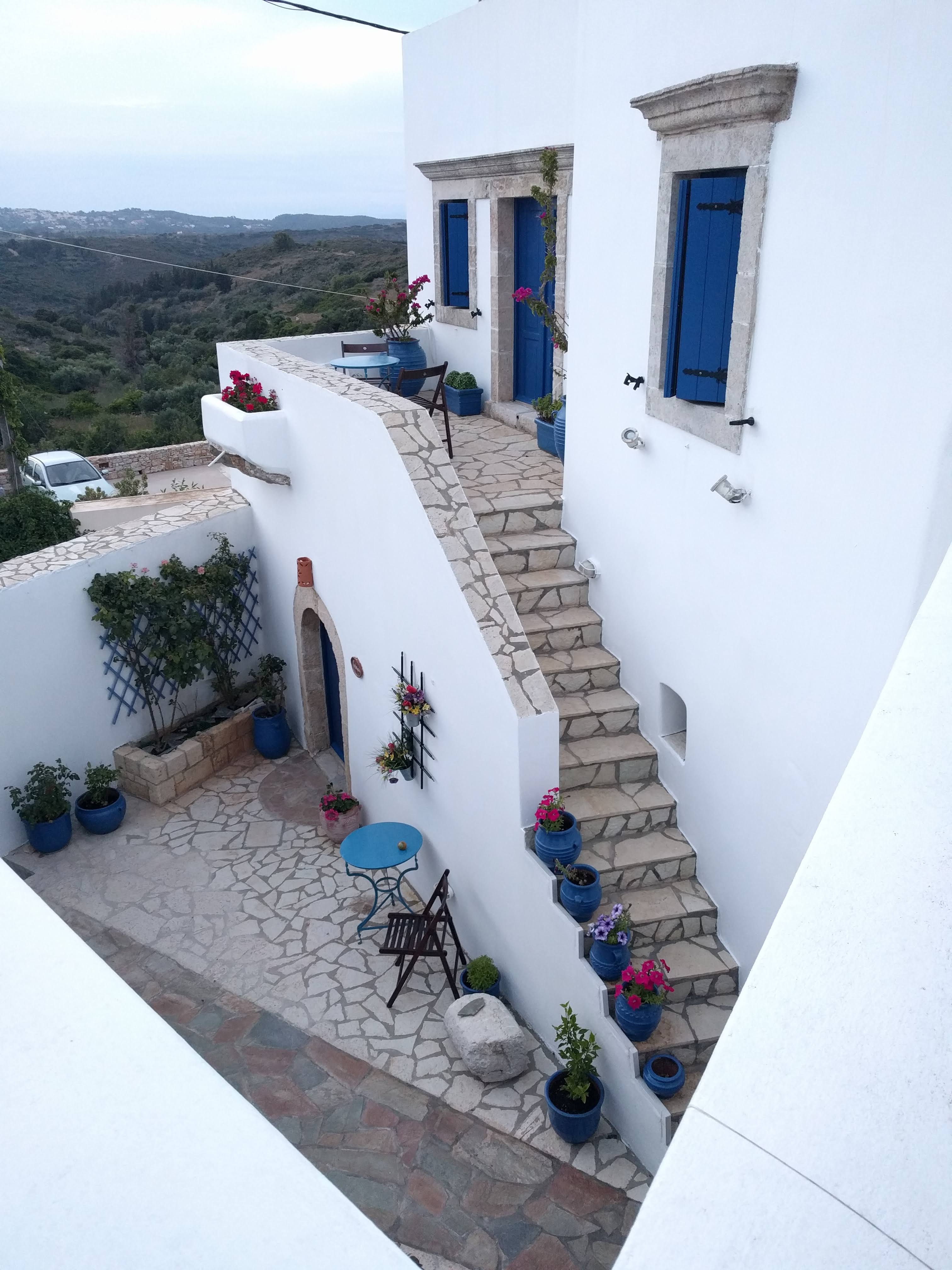 There was even a preserved cistern in the middle of the entry way covered in thick glass.
Rainwater caught on the roof and decks was funneled via ingenious drainage systems to be stored indoors for cooking and bathing.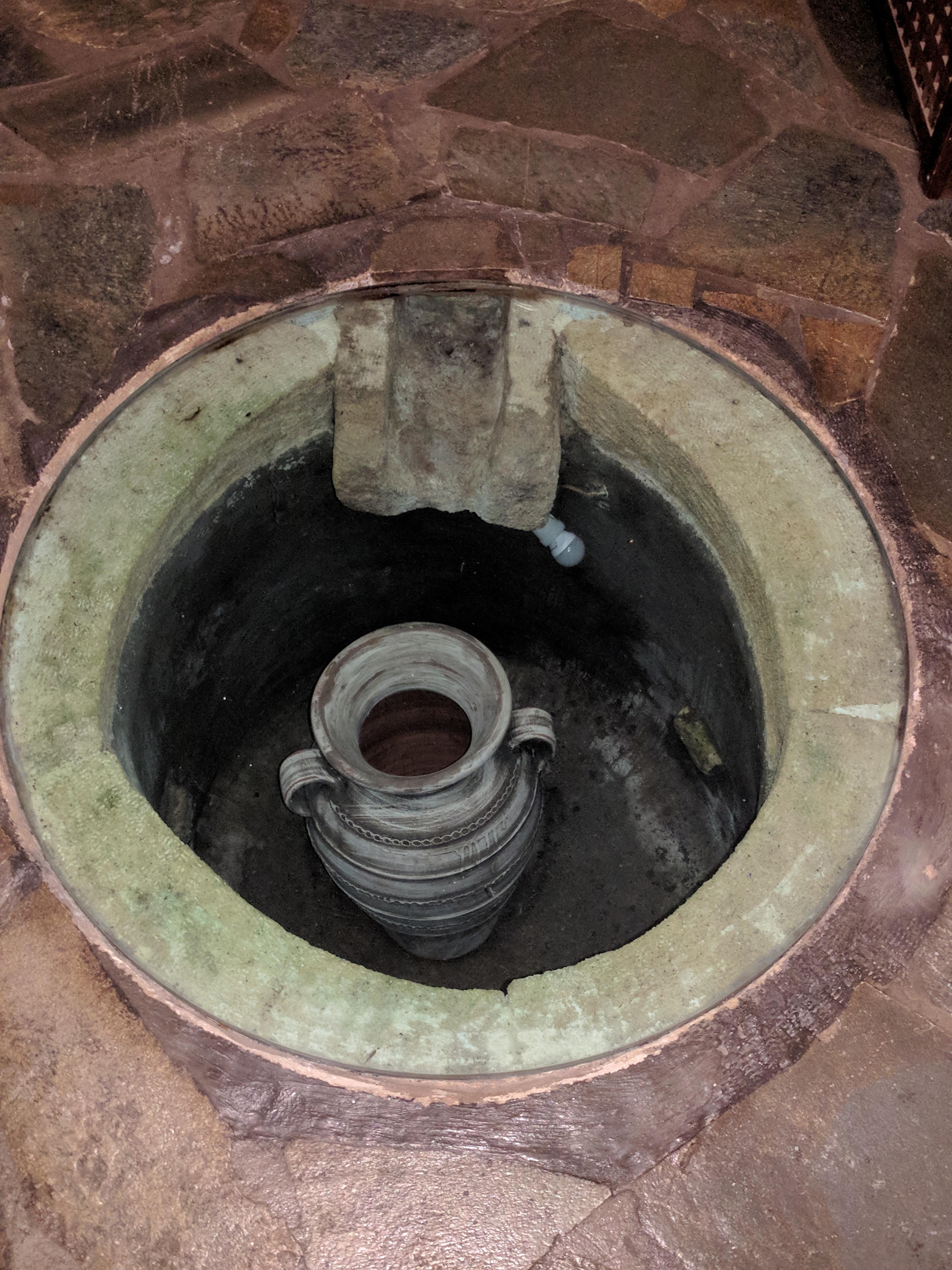 Medieval streets were narrow, able to accommodate exactly one car and one pedestrian sucking in his gut.
Parking was 200 meters away, "near the trees by the church."
Greek island villages, I soon discovered, typically consist of two families and three churches.
View below is from driver's seat as I figure out how I'll steer us through this tunnel with 6 inches of clearance on either side.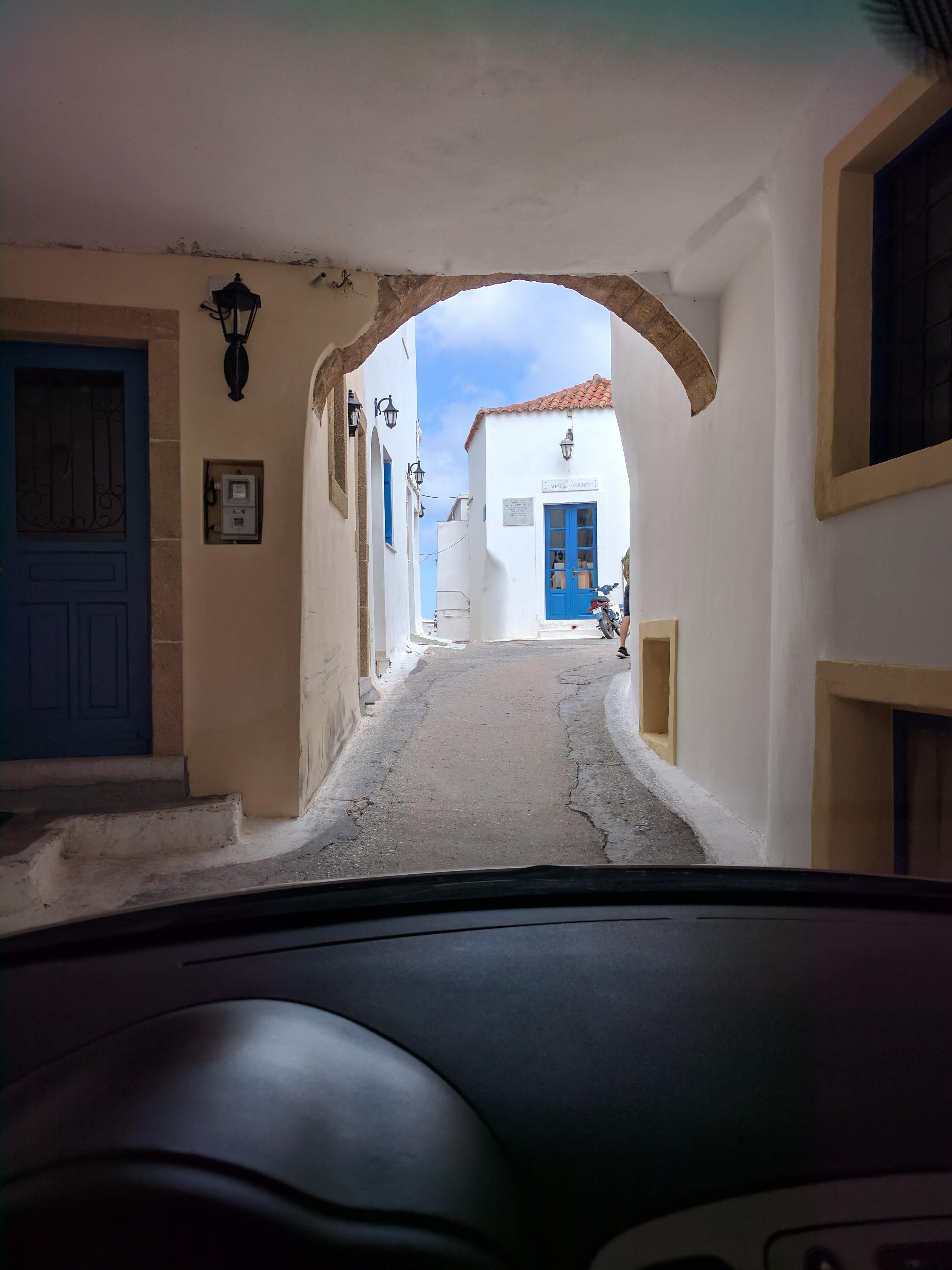 Our hostess was generous, but her English and my Greek were equally under-developed.
My Greek vocabulary to date consists of "Thank you," and "My children are driving me crazy." I'm particularly proud of having mastered the latter.
Neither helped in trying to figure out the wifi code for the rental, which our host had never used, but my wife was counting on in order to conduct her consulting business remotely.
No luggage. Multiple wasp stings. No wifi. Kythira was turning out to be my wife's personal foil, where Gilligan's Island meets Dante's Inferno.
Ultimately, our host recruited Stavros from around the block, the equivalent of the kid who helped my grandparents get the VCR working a generation ago, to discover that the wifi code was printed on the underside of the router. One problem solved.
At this point, the helpful airline employee called to inform us she still had no leads on the lost luggage and suggested we file a police report, adding fuel to the fire. My wife bemoaned the absurdity of having no bathing suit on an island. My son echoed my wife with a second grader's variant of, "Oh, the humanity!"
My daughter and I conspired to be the optimists, suggesting a market run to get food and feed the hangry. As we stocked up on fresh bread, smoked eggplant and Kalamata olives (Kythira is ~50 miles as the crow flies from the mainland Greek town of Kalamata!) I got the call – the errant tourist had phoned in and the lost bag had been located. It was going to be returned to the airport within the hour.
We picked it up, ate a delectable and long overdue lunch, and took off for one of a dozen beaches. Having researched each of them in advance, I chose the one I thought offered the best chance of cheering up the Debbie Downers in the group.
We took sinuous hairpin roads slowly to descend from the central mountains into a dramatic coast, where blue domed churches and fortified castles (Kythira was a strategic stop for merchants in the Mediterranean, making it an ideal target for pirates, notably Barbarossa).
We drove through medieval villages composed of a single steep street, where the whitewash on the walls matched the white-knuckle grip my family used to hold on as they looked out the (still rolled up) car windows.
Our drive took us to a pebble and sand beach in a small harbor sparsely populated with fishing boats and yachts, all beneath the shadow of an enormous fortress. I took a swim with the kids in the surreal blues of the Aegean, while my wife read on the sand.
As we drove home, we stopped in one of many charming villages to order takeout souvlaki that smelled of roast heaven served on fresh pita.
Travel is not an entitlement to aggravation-free living.
It's about learning to roll with the punches, not letting things beyond your control ruin your adventures, and learning to welcome the unscheduled detours as exciting itinerary additions.
These skills, and the perspective they contribute to dealing with chaos, are the gifts I hope my kids take away from our initial Greek Tragicomedy.