We're baa-aack! This summer's big trip (vacation is a term my wife and I reserve for travel without children; trip refers to travel with children) was to Spain.
I thought it might be worthwhile to share the tips and tricks that made this one wonderful, as well as the fails that we'll learn from going forward. We had just under 3 weeks that we chose to divide between Madrid, San Sebastian and Barcelona.
Madrid Is The Red Headed Stepchild Of Great Spanish Cities
Madrid often gets short shrift as a destination in Spain. Barcelona is artsy and rule-breaking with Gaudi, while simultaneously boasting a Gothic barrio and oozing food and architectural remnants testifying that it was a crossroads of history and culture. Madrid is more buttoned-up: museums and royal palaces and rule-followers.
Barcelona is your college friend who wore ripped jeans, became a polyamorous rock and roll phenomenon and inhabits a SoHo loft with gorgeous Swedish triplets. Madrid is your college friend who wore golf shirts, became an accountant, married his high school sweetheart and lives in the New Jersey suburbs where he was recently elected to the school board.
I empathize with underdogs, and I can relate to being underestimated at first glance, so I was able to enjoy Madrid.
Culinary Crossroads
When people mention Spain, they think food. Alas, we were not food tourists. We avoid pork and shellfish. Spanish food is 90% pork or shellfish (with the remaining 10% combining the two elements), so we did not seek out the Spanish foodie scene.
Our single foray into Spanish vegan restaurants was not encouraging. What we did enjoy was the diversity of international cuisine available in Spain.
Our food plan centered around one meal out per day:
A leisurely breakfast of muesli and fresh fruit or omelets at home (facilitated by the comfort and kitchens of our airbnb rentals)
Shopping in the historic community markets for fresh fruit, warm loaves of bread and hummus or avocados which we tossed into backpacks for lunch on the go
Dinner in a restaurant
An outstanding dessert (usually gelato or churros and chocolate) every other day. The dessert budget usually equaled the dinner budget - one place we do not pinch pennies.
Our favorite haunts at home are smaller family-run restaurants serving international dishes, the sort of eateries most associate with college towns: affordable and vibrant, where the wait staff remember your preferences.
Madrid had plenty of these, and our favorites seemed to be concentrated in the Lavapies and Chueca neighborhood. They included Greek souvlaki that reminded us of our prior summer's adventures, Japanese Udon noodles, Turkish doner kebabs, Thai stir fry and Indian tandoor.
One restaurant deserves special recognition for the exceptional dining experience. Restaurante Al Mounia, located near Retiro Park, was our most expensive meal of the trip, but in this case cost was proportional to value.
The flavorful Moroccan food was complemented by the ornate interior - it reportedly took artisans brought especially from the country over a year to carve the intricate Moorish designs that made my family feel like we were dining in our private Alhambra. Add an attentive wait staff, and we felt like royalty.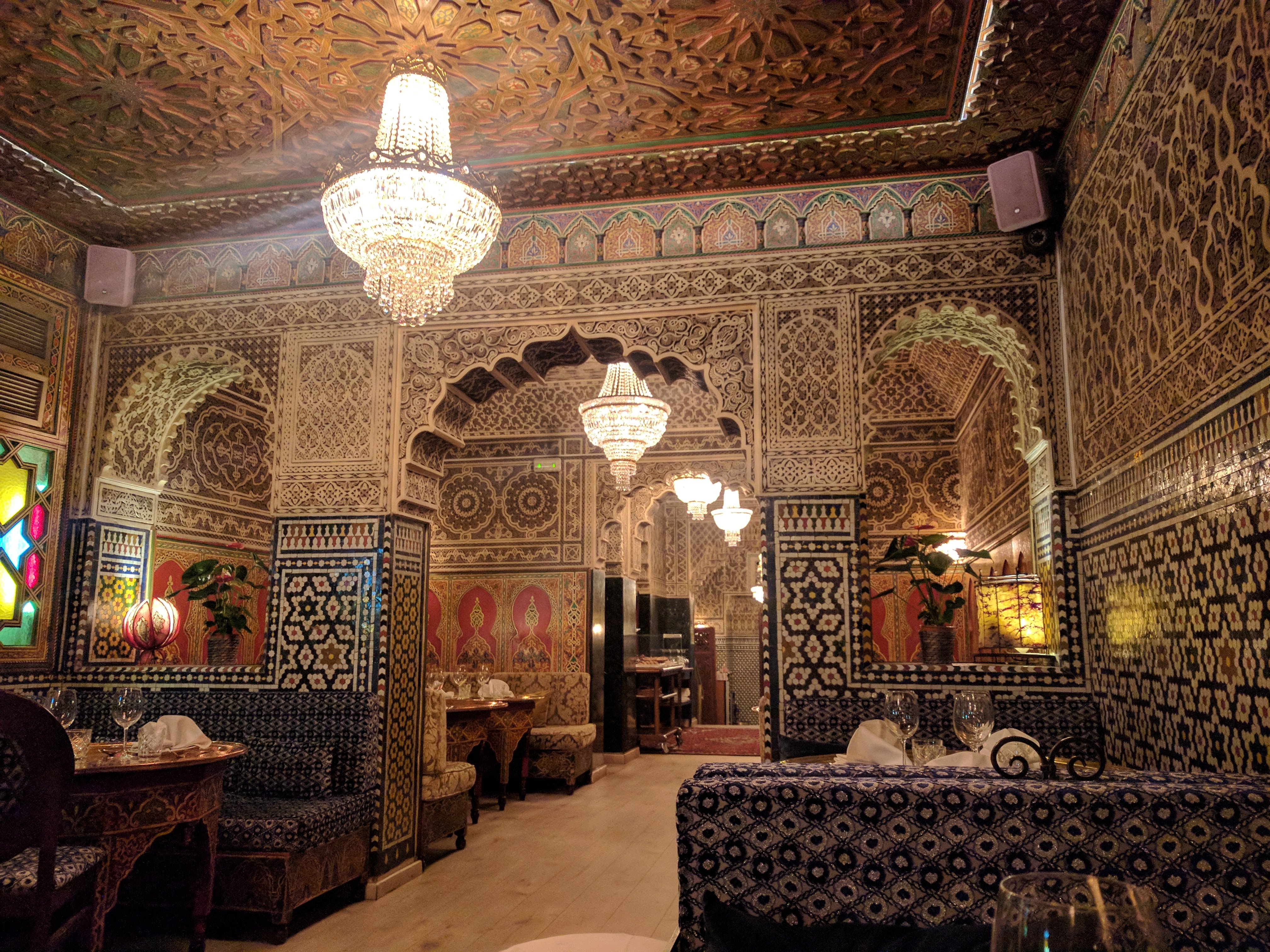 Lavapies
Madrid's equivalent of San Francisco's Mission District, Lavapies is a grittier area of town where newly arrived immigrants from north Africa and the middle east are a visible presence. It's blue collar roots gave rise to a bohemian sensibility and a cosmopolitan scene full of sidewalk bars and restaurants, which has led to a modest degree of gentrification that is far from complete.
Food was cheap and delicious, and the general vibe was an ancient neighborhood coming into better times. I felt safe walking with out kids through the area both day and night. We also enjoyed the street art, and found some moving pieces that protested police brutality both here and in La Latina.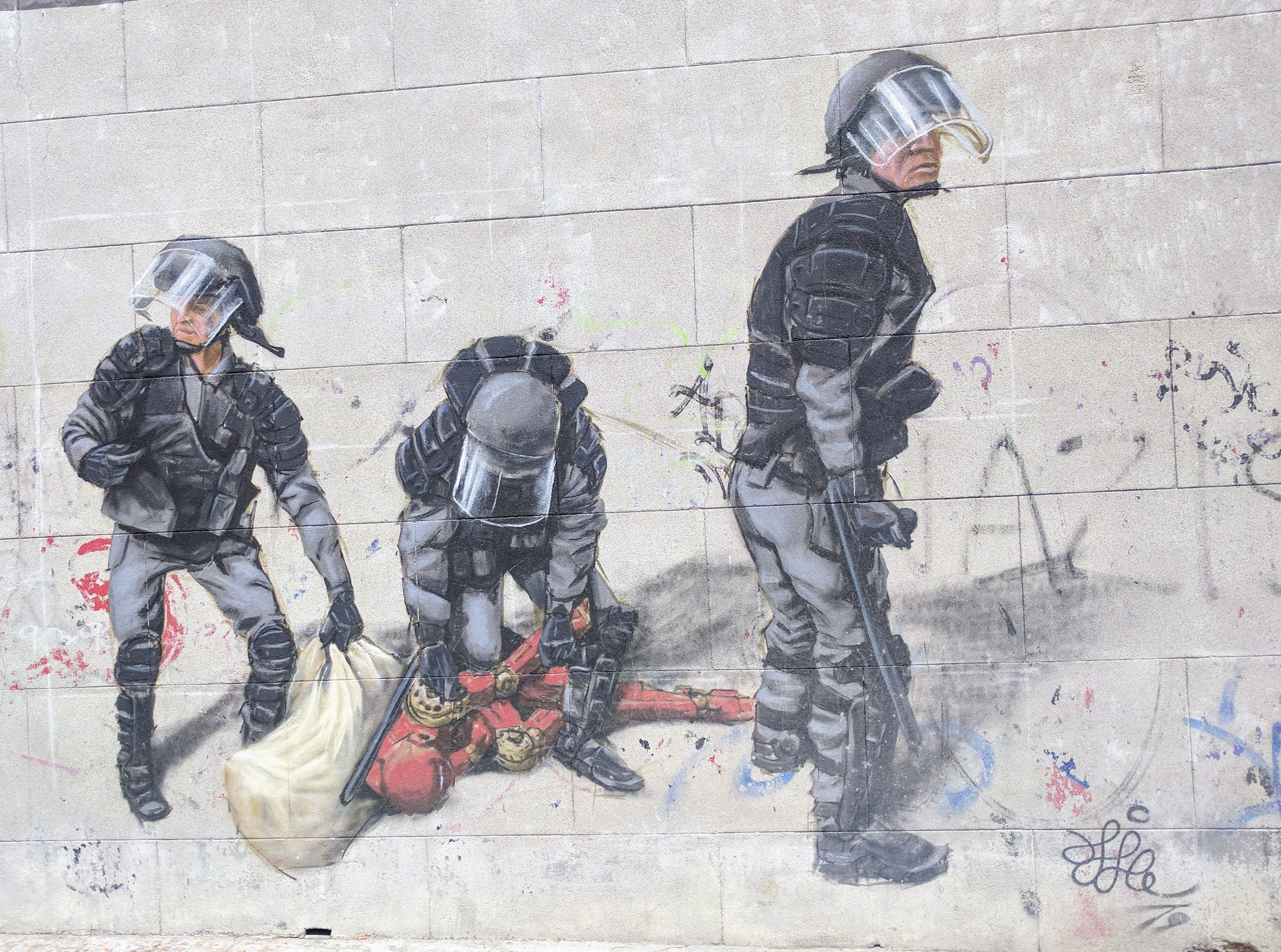 Puerta Del Sol
We bookended our trip to Spain with a short couple of nights at the start to recover from jet lag, followed by a longer stay at the end. This was because it cost fewer Chase Ultimate Rewards Points to fly in and out of Madrid than multi city configurations (eg, into Madrid and out of Barcelona).
Our initial jet lagged days were spent in Puerta Del Sol, which is tourist central and has a Times Square vibe to it. The up side? It was walkable to supermarkets and a central to easily reached shops and restaurants.
We were down the street from a multiple bakeries, including one that made delicious rural-style empanadas: a thin and flaky fried square of crust the size of a pizza box, cut into fourths, filled with chicken, roasted peppers and carmelized onions.
The air conditioned department stores were a refuge from a heat wave that made the headlines globally. The reigning monarch of Spanish department stores is El Corte Ingles (the name refers to humble origins as a tailor shop referencing suits with an English cut or seam).
There are several stores in Madrid, but our favorite was of interest for a basement grocery store, a ground floor electronics area and housewares upstairs. The market had produce from all over Spain, while the electronics floor was full of virtual reality rides being promoted for home use by Samsung.
The kids were too young to try the free virtual reality rides, but seemed to enjoy watching my wife and I try them out.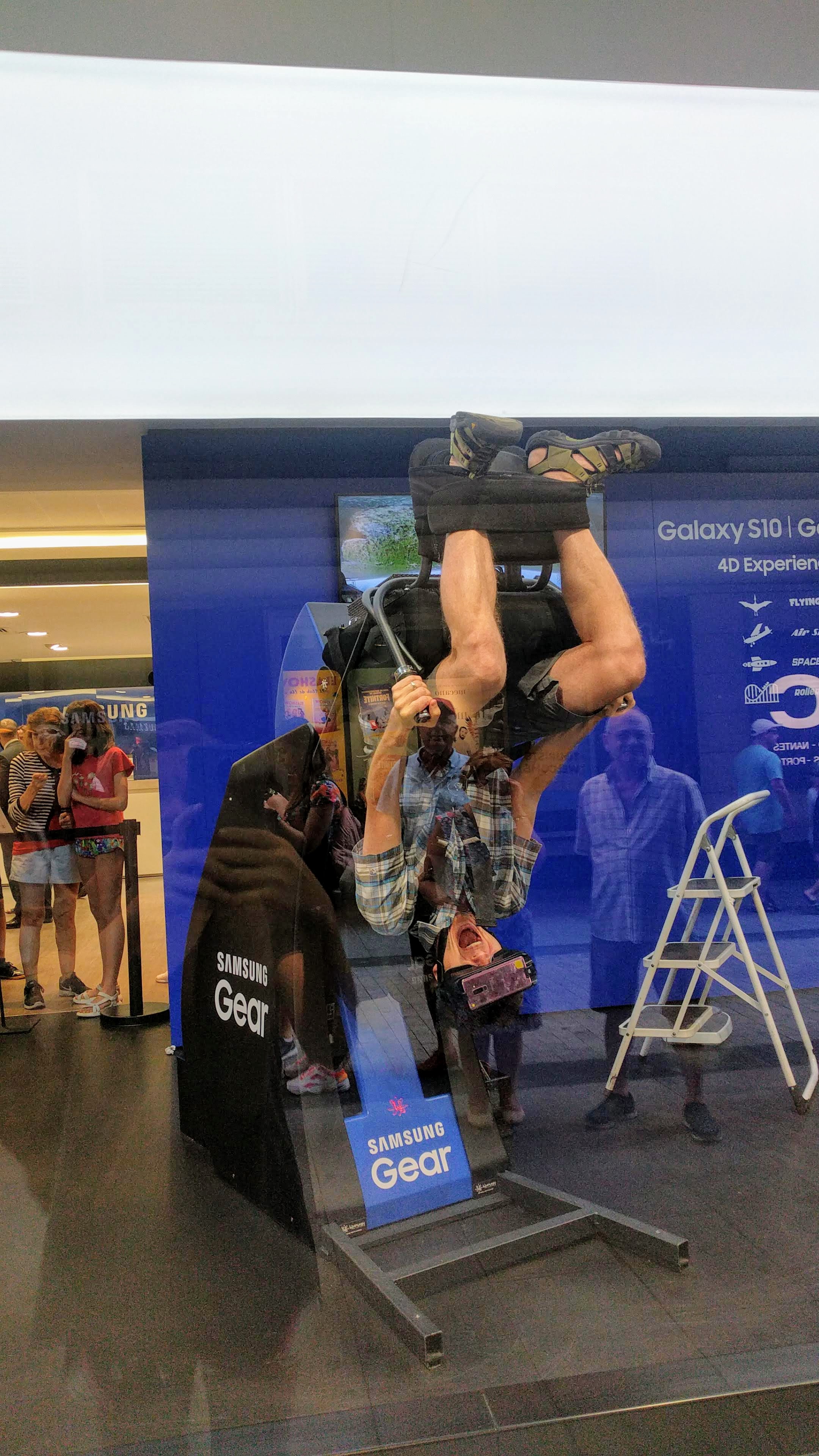 Chueca
We chose an airbnb in Madrid's popular gay district (named after a plaza honoring Spanish composer) for the bulk of our nights in Madrid, and we loved our time there.
Chueca turned out to be a bustling place full or restaurants, cafes and pleasant pedestrian streets. Our place was blocks away from the renovated Mercado de San Anton, a multi-story indoor market with food stalls and an upscale food court.
It was walkable to numerous attractions, museums, and a nearby metro station. Like other major cities I've stayed in where a gay population leads to neighborhood gentrification and a vibrant night life (San Francisco, Portland) it was a well-maintained, safe area to stay as a family.
Parque Madrid Rio
An artfully reclaimed area along the once polluted river running through Madrid, we delighted in the sculptural bridges, bird and people watching and fancy children's play structures that made for a terrific picnic day along this new spot of paradise.
We happened to visit on a weekend evening when families were out in droves enjoying rare cool breezes along the river over dinner picnics.
An unexpected highlight was the spectacle of a couple of aerial silk performers who suspended long ribbons by carabiners from a bridge foundation and gave a free performance of twisting and acrobatics worthy of Cirque de Soleil.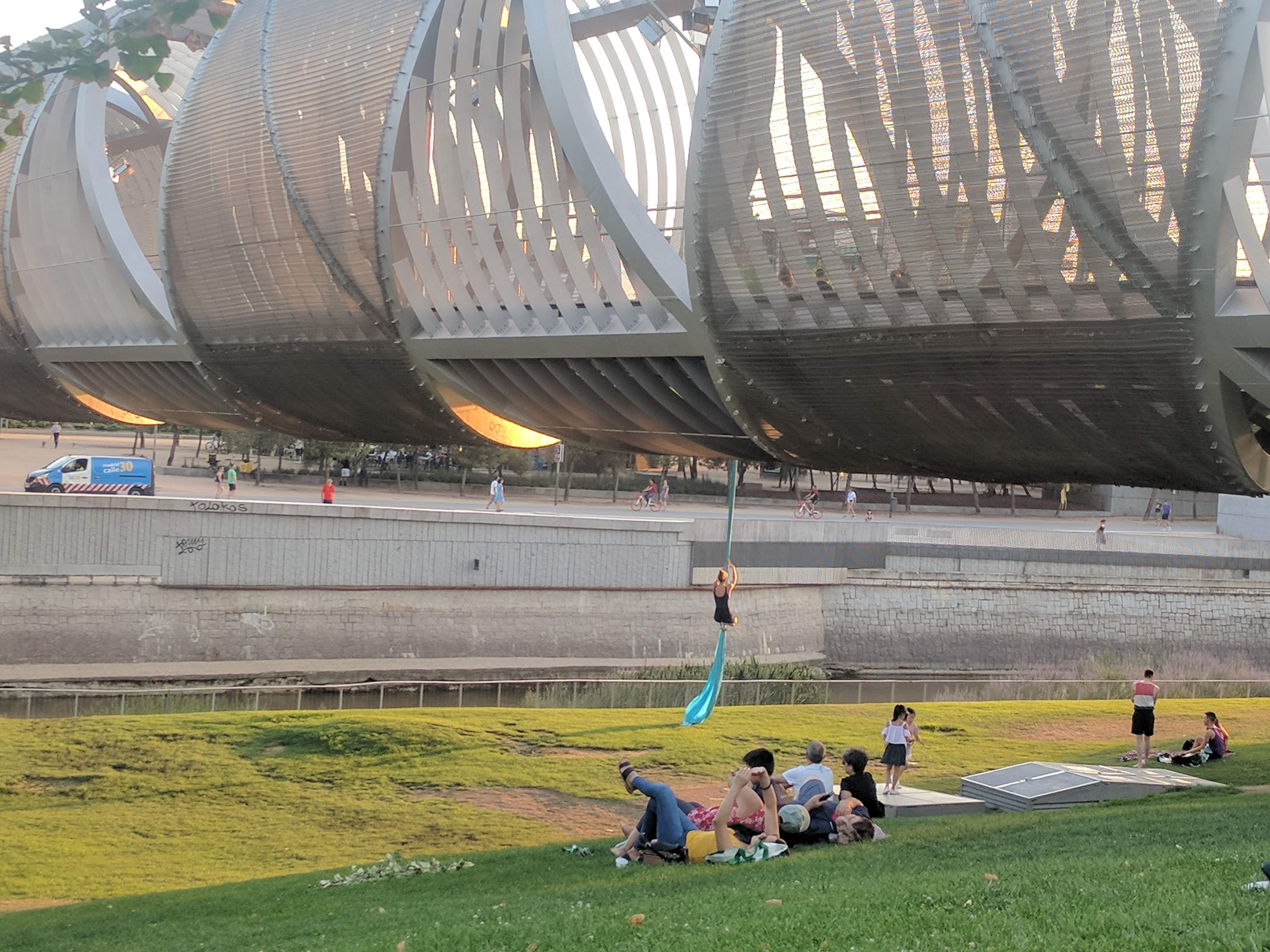 El Rastro
The world famous Sunday flea market in the La Latina neighborhood encompassed head shop pipes, 99 cent store LED light fantasia, all things old and rusted (padlocks, sewing machines, manacles) and knockoff rock band t-shirts.
We were not pickpocketed, but we were careful. 24 years earlier, as a hosteling backpacker at this very market, I'd witnessed an angry middle-aged Spaniard reach behind him to grasp the wrist of a teenage pickpocket who was using enormous 6-inch tweezers to extract a wallet from the man's rear pants pocket. It made an impression.
In the end, among one of the junk vendors, my son found a hundred year old silver coin for ~10 bucks that served as his memento of our trip.
My daughter opted to save her ten buck souvenir allowance and invest it in the Bank of Mom and Dad instead.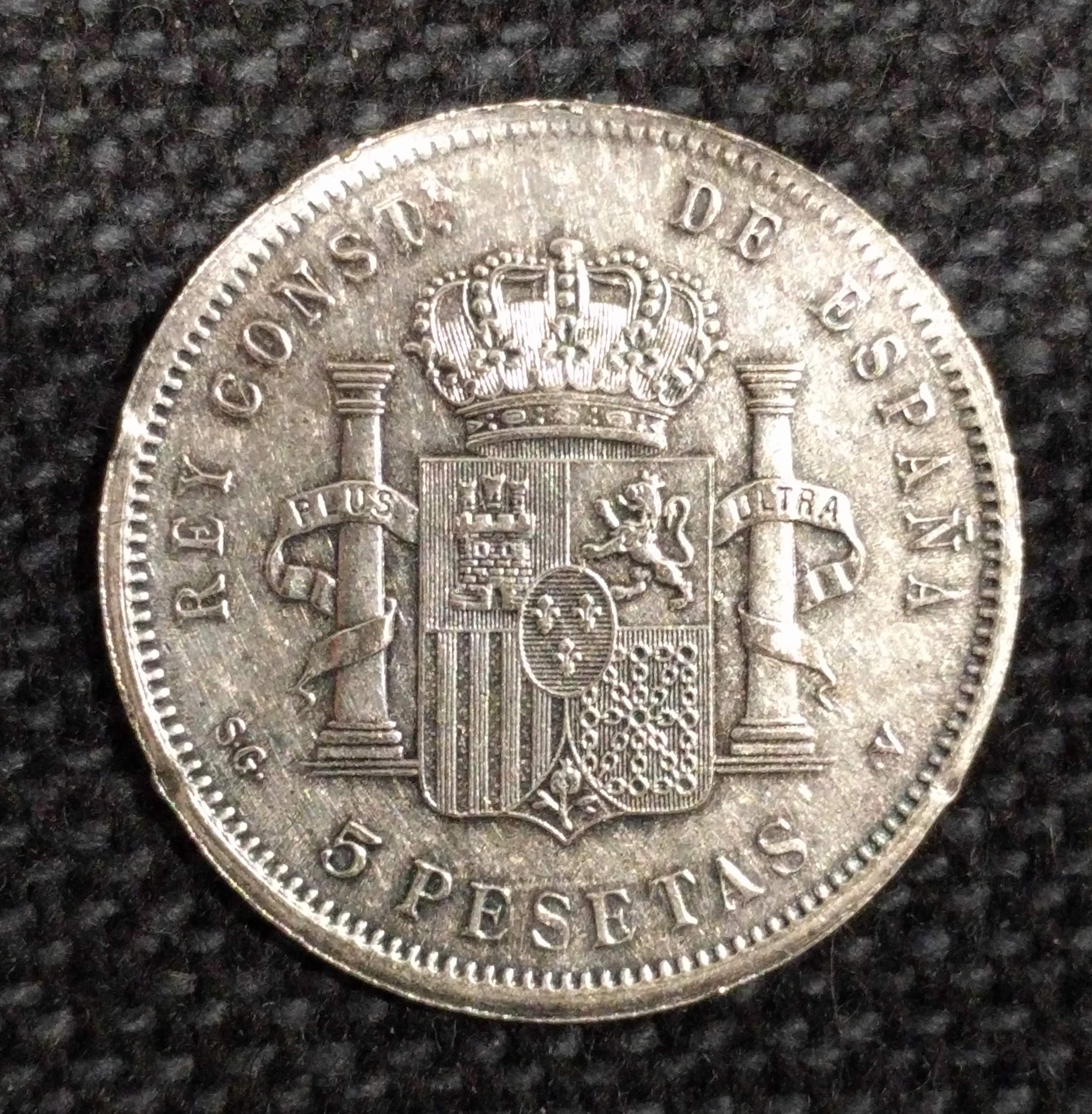 Street Art Tour
We returned to La Latina once more for a street art tour I'd assembled from some maps I found online. This was one of the highlights of our time in Madrid - I've started adding a street art itinerary as an afternoon activity each time we travel.
It's become our preferred way to experience the diversity of weirdness, creative brilliance and social protest movements as we visit new places.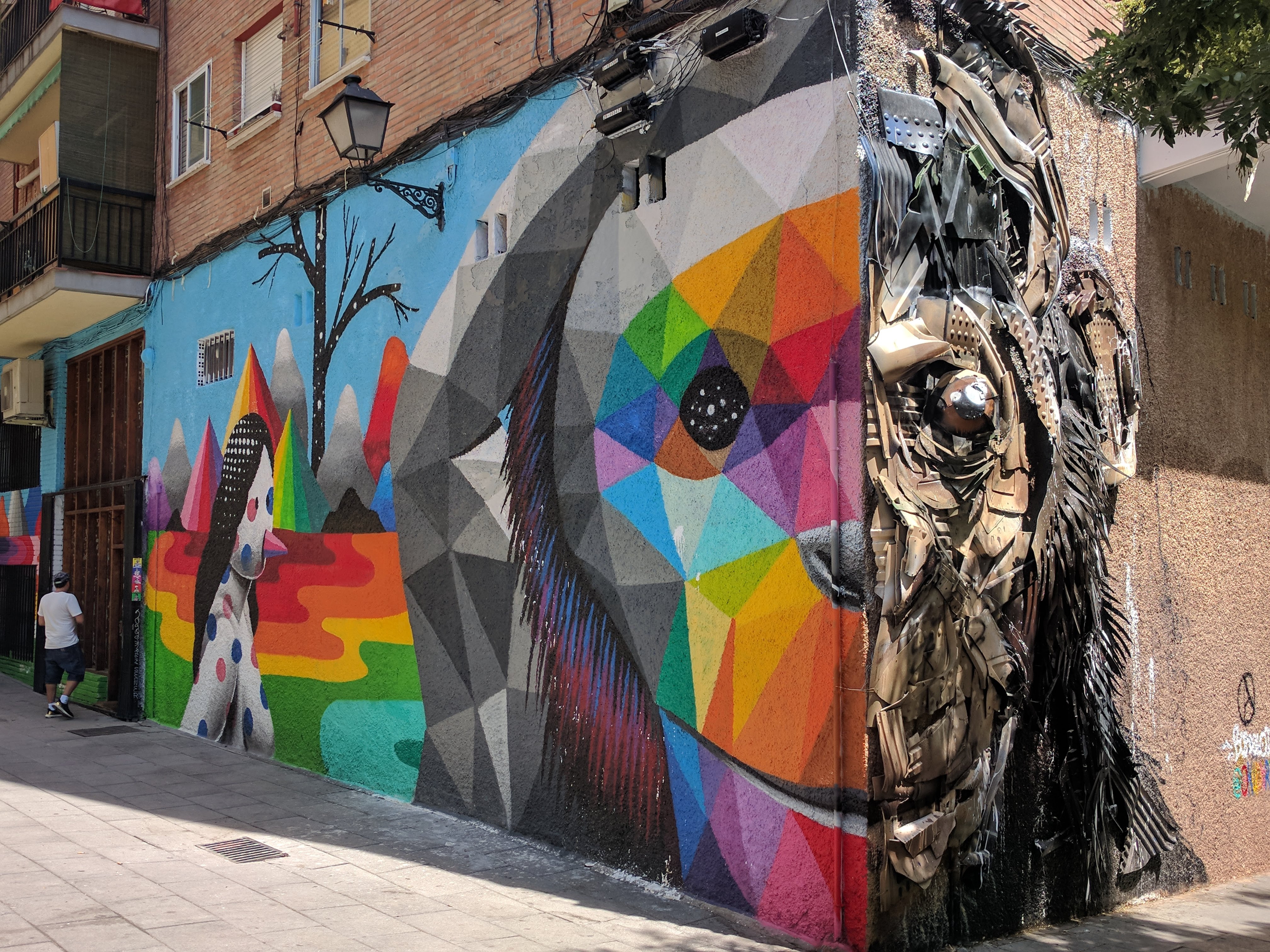 ---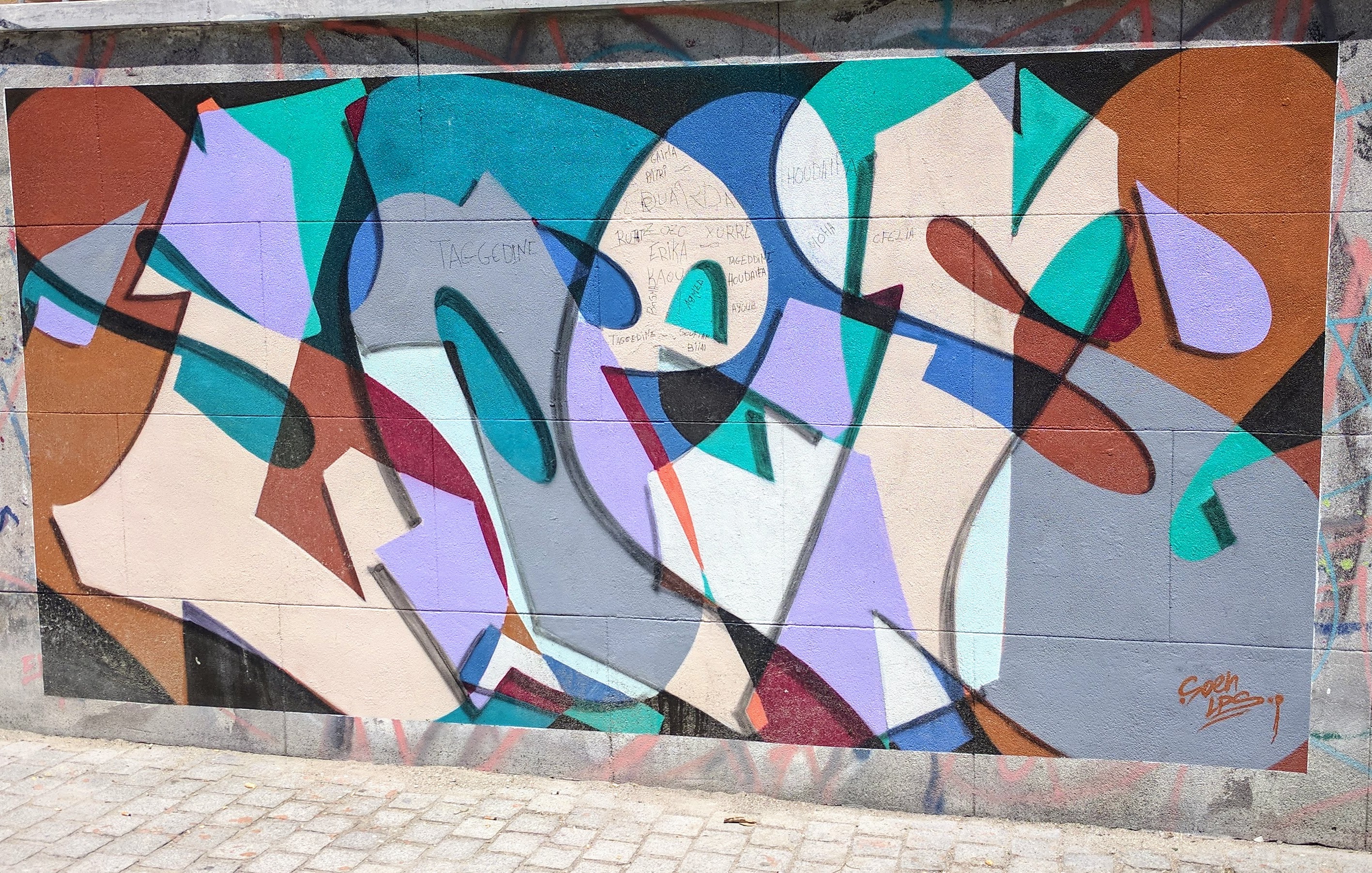 ---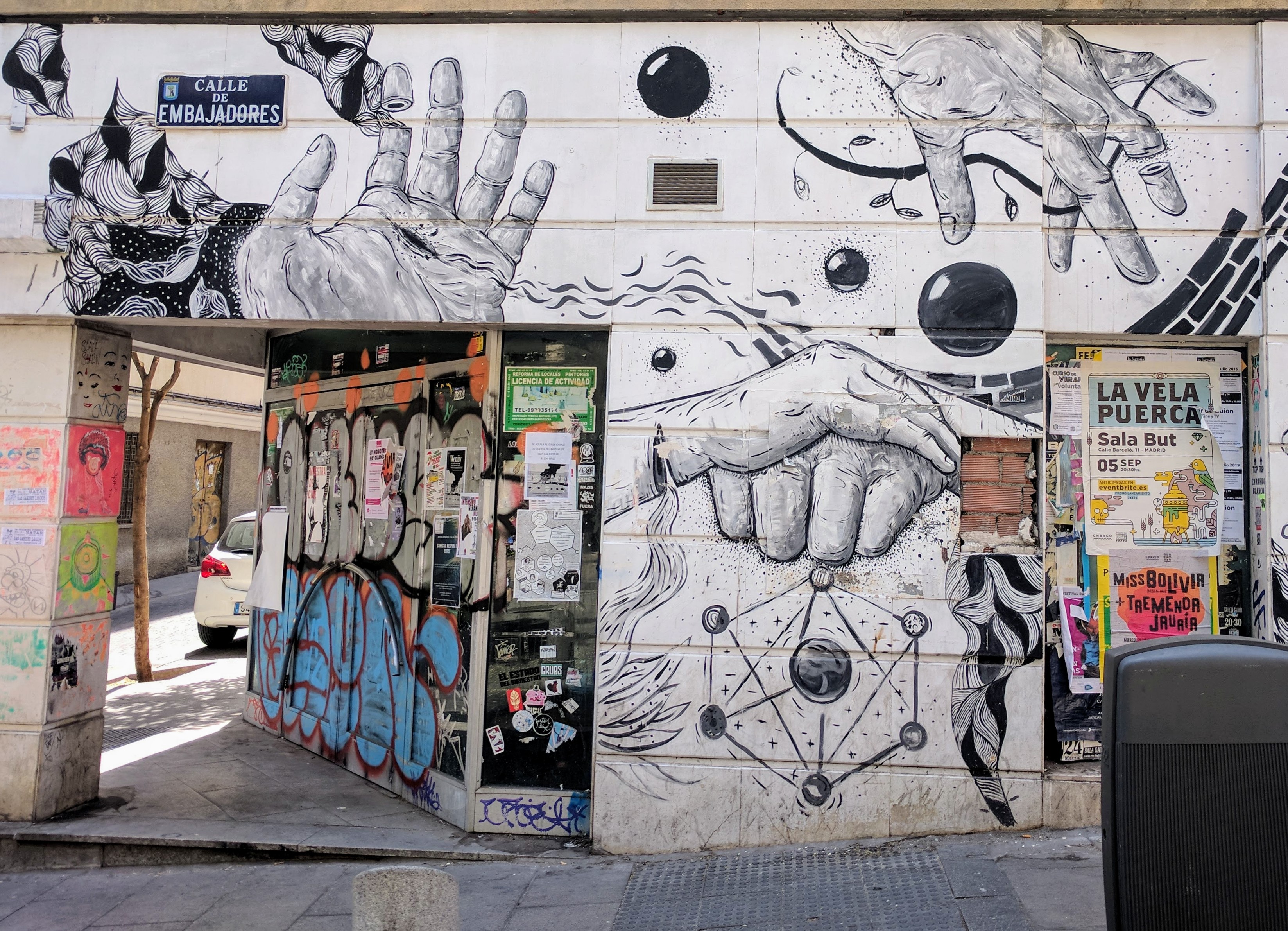 ---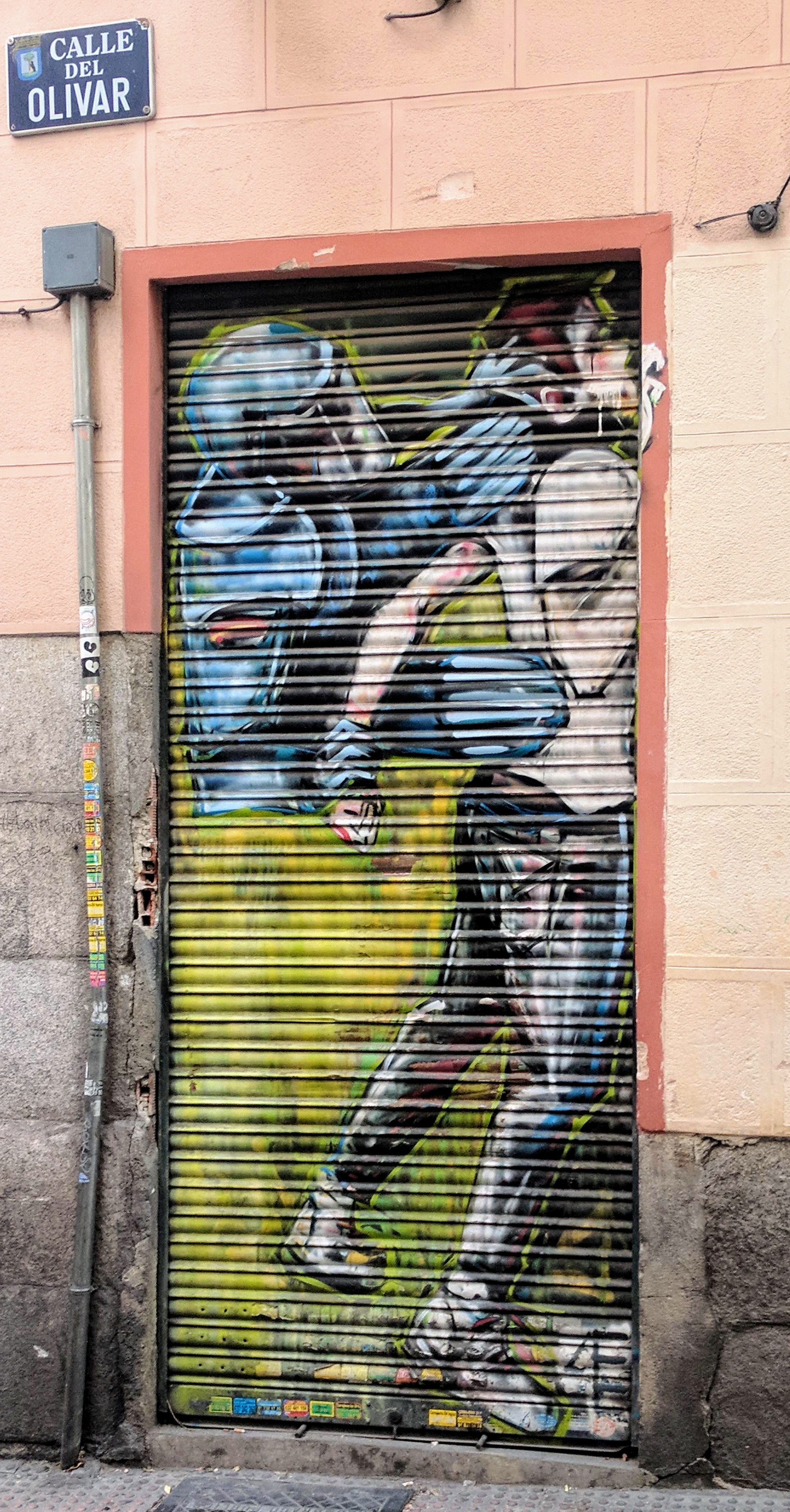 Royal Palace
The tour was spectacular - all the gilded excess one would expect from a monarchy sustained by New World gold. I was left thinking that the present royal family's wealth must be devastated by annual maintenance costs alone (which visitors like me presumably help to defray).
I left feeling like I'd just stayed with a parent or in-law with a big house and a ton of stuff. I felt an acute, irrational desire to declutter my own living space as a visceral response.
The buildings and garden surrounding the Palace are wonderful glimpses into a sumptuous past. There are narrow alleyways with charming (if overpriced) pubs.
A short walk away, the Plaza Mayor continued to convey the strength of the Spanish empire. Across the street, the Mercado de San Miguel was an architectural marvel that had been updated for modern times, with impeccably displayed food, craft beers and tapas from all over the world. The empanadas were a favorite in our family.
A few blocks beyond the Mercado, the Chocolateria San Gines was a marvel of churros and chocolate. My daughter chose this destination (part of an afternoon itinerary she created for our family!) after reading an online review that lamented the chocolate was "too sweet and too thick." We lauded her ability to recognize that another visitor's lemons could be our lemonade.