At the time of writing, we are in the midst of the most luxurious vacation we have taken yet as a family.
I do not consider it a luxury for the accommodations, although they more than meet our needs.
Lodging has averaged under $60 a night with all places offering 2 bedrooms and 1 bath, full kitchen, washer, and decent wifi. All were obtained exclusively via airbnb**.
Our current residence is a renovated 500-year-old Cycladic villa with original stone arches on the interior, picturesque whitewashed walls and intense blue shutters outside, and several decks overlooking olive groves and church domes of the rural Greek countryside.
I do not consider it a luxury for the food, although it is sumptuous.
I start each day with big bowls of backpacker's delight al fresco on the deck: peak summer fruit, Greek yogurt and muesli.
Pinic lunches include smoked turkey sandwiches on fresh baked baguettes (a dollar buys a crusty loaf the length of your arm) and soft pita dipped in freshly smoked eggplant, a Greek version of baba ganoush.
Dinners are Greek salads, roasted kebab, souvlaki and gyro sandwiches eaten at one of four tables overlooking the only road of this one-road town. Our dinner theater: acrobatic performances by the swallows that nest behind the building.
Last night, for dessert, we inquired at a bakery if they sold any fresh baklava. Bracing us for disappointment, the proprietor replied, "I'm afraid we only sell baklava dipped in chocolate."
Daily food costs for our family of four: 25 euro (~$30; add another $5-7 daily for gelato).
I do not consider it a luxury for the beaches in tiny fishing villages.
Their color palettes are like Hockney paintings emptied of all but blues and greens surrounded by homes of bone white, with water clear as glass.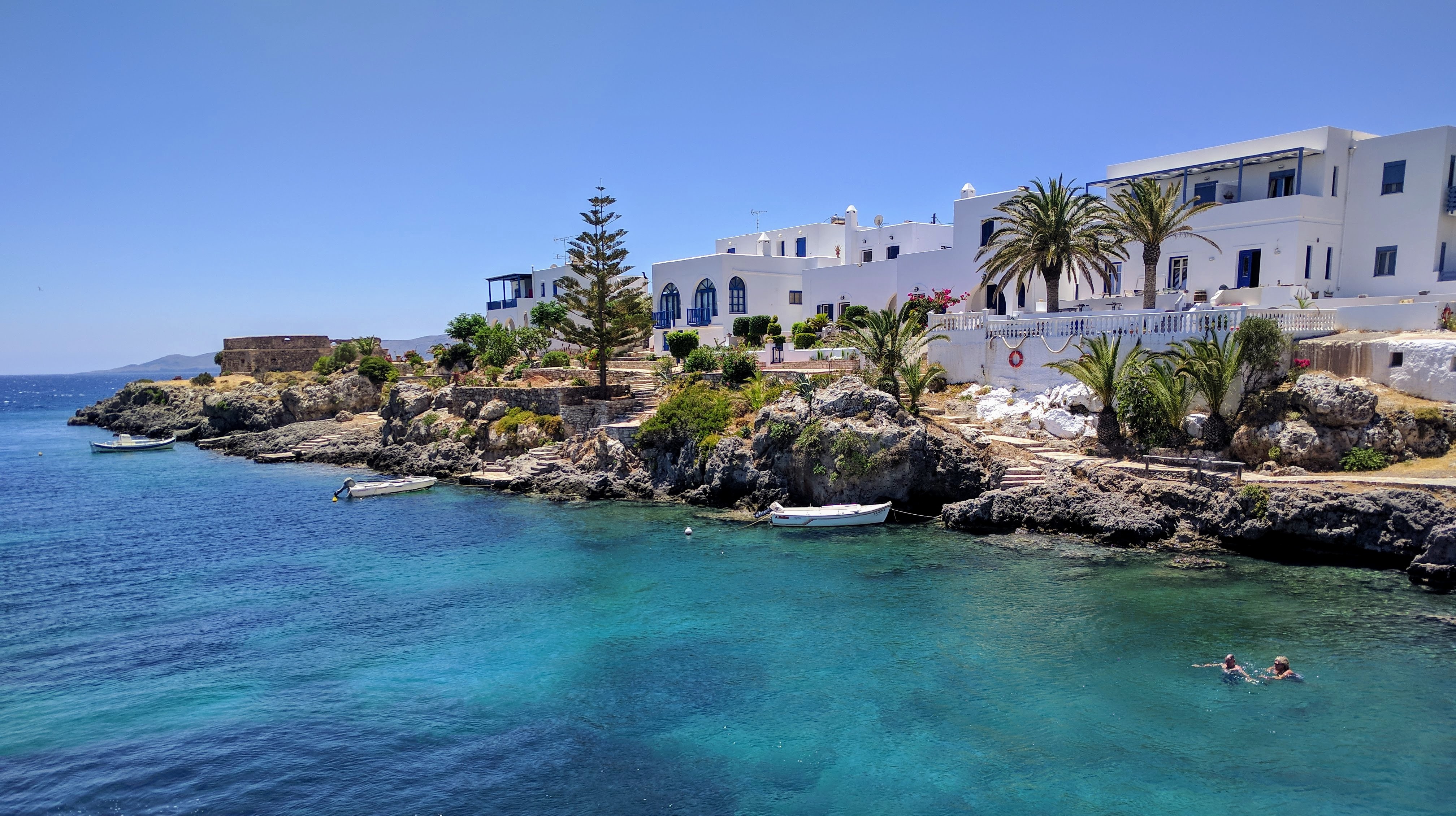 I consider it a luxury because this vacation is about time.
There is time to drive sinuous roads the width of a single car leading to orphanages that serve as trailheads for secluded beaches.
There is time to stop for an espresso under the arch of a Byzantine church.
There is time to chat with a favorite waiter at a local cafe. He has become a source of information (and our kids a source of his amusement) since usually we are the only patrons.
On our final visit he brings me a single large bill as change, and I ask him for smaller bills so that I may tip him. He sheepishly smiles, then unexpectedly bear hugs me and says, "No, it's okay, thank you." I'm thrown, having never interacted this way with a waiter, so we leave it at that.
There is time to visit the nearby waterfall, passing endless fig trees that remind one of our party of the elusive bowel habits that international travel have disrupted, and which will take a week to normalize.
This is time for the kids to fight, and for the adults to lose their tempers, and then for all involved to work through the issues and build a fragile peace over gelato until the next day's eruption.
There is time for the kids to exhibit affection, the mermaid older sister supporting her dog-paddling younger brother by the belly and he practices dipping his face into gentle turquoise waters, or practicing gymnastics beside him as he digs a hole in the sand.
There is time to be comfortable with our outsider identity, the same one that protects our frugal ways from social pressure to spend.
The beaches contain the occasional topless French middle-aged tourist and her partner in a speedo, both smoking cigarettes. Females from toddlers to geriatric age wear bikinis without exception, maximizing exposure of flesh on bodies of all shapes and sizes.
My wife and daughter are in one-piece suits, and all four of us wear long-sleeve rash guards. We come from flammable stock (think melanoma), and like the former drummer for Spinal Tap, have been known to spontaneously combust.
We also use sunscreen whose viscosity and opacity resembles infant butt cream. (That's what was on sale in travel size a few weeks before our trip).
For three remarkable weeks, we have the time.
My crotchety old man refrain to my wife is that the kids are bound to resent us in the future, just for issues totally different than those we currently suspect.
When that painful time comes, and they explore who they might become by deciding how they are not like us, I hope they'll remember this time as a spectacular experience whose  memory bring us together.
**save $20 while I make a small commission at no cost to you